Hey Guys, I finally figured I'd post up my 84' 4Runner build. I've built a few older toyota pickups, ( and various other 4x4's and muscle cars over the years). Back when I was a kid growing up, my father had a sweet 1984 solid axle 4Runner that I was in love with but he ended up selling it before I could get my hands on it, so I was out of luck trying to find a nice shape 4runner for a real long time. Well being a native New Englander, trying to find anything older around here in descent shape especially with all the dam road salt is virtually impossible. They say sometimes its better to be lucky than good - I came across a newly listed ad on Craigslist from a guy over in New York, and he had this pretty much bone stock, super clean (and virtually rust free) 84' solid axle 4runner that he wanted to sell before he cut it up to build a crazy backwoods wheelin' machine (Lucky for me he really wanted a pickup instead !!!). I shot him an e-mail as quick as I could, and after a few responses back and forth the deal was done, and then a buddy and I went down with a trailer and brought home my new toy.
Heres the day it came home..( also notice the 86' Parts truck peeking out from behind the shed in the background..)
The body of this truck is in excellent shape for its age and who ever previously owned it took pretty good care of it. Its got a lower mileage 22R motor which I have since installed a Weber carb, new cap, rotor, wires and ignition set-up on.
As previously mentioned, I've built and wheeled' a few other older yotas in the past, and I just so happened to have an 85' solid axle shortbed pickup that I had just entirely rebuilt the suspension on, that a buddy of mine wanted to buy from me. I told him I wanted to switch out the suspensions on both trucks, and he said lets get it done..! SO after a few long hours and lots of beer, everything got switched from the pickup to the 4Runner.
Heres where we started in the morning....
I had already done all of the "hard" work to the pickups front axle and suspension ( New Trail Gear 4" leaf springs- with one leaf removed for softer ride and lower stance, U-bolt flip kit, new TG drop shackles, shaved and trussed housing, new chromoly axleshafts, freshly rebuilt stock AISIN hubs and new seals throughout, new brakes, and brand new high-steer setup complete with brand new steering box and pump.) It was literally as simple as unbolting the 4 leaf spring bolts on both trucks, rolling the axles out into the driveway, and switching them truck to truck.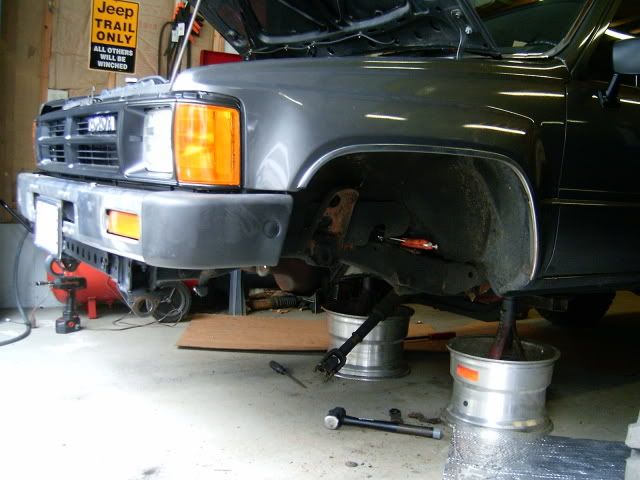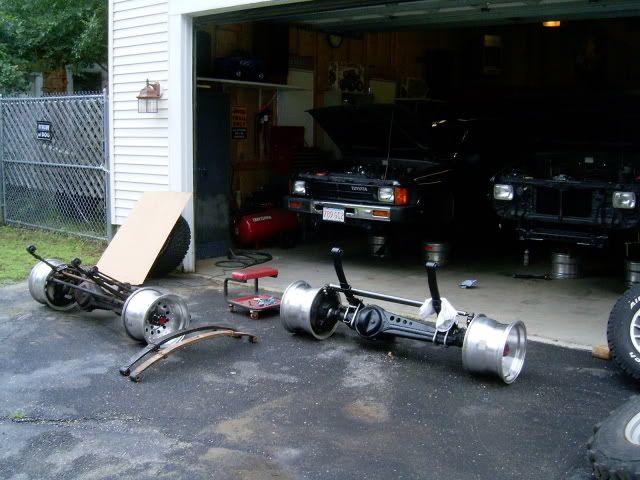 By the end of the weekend, this is what I had. The rear axle was previously built up as well. It came out of an 87' pickup ( which is 3" wider than the 84' and 85" 4runner axles). It was already locked and had new brakes when I put it under the pickup, so switching them was the same deal as the front.
Then came the countless packages from Trail-Gear, Marlin Crawler, Bilstein and various other Toyota specific parts vendors.. ( The UPS guy must really hate me by now..! LOL).
I also built the Willys jeep on the right a few years ago. Its an all steel 1951 M-38 , with a ported and polished small block ford 302 V8 ( hence my screen name..!)
Test fitting...
The TG bumper was fine from the factory, but I went ahead and added a few plates to square up the front fairlead mount, and also added a few extra down tubes just to continue the tubing line thru the bumper from the stinger, all purely asthetical, but just something I wanted to add.
I also went ahead and got a set of TG sliders, and matching rear tube bumper, all of which were welded up, painted and installed.
Then it was time for some new sneakers. I picked up a set of brand new 35" BFG KM2 Mud Terrains, and mounted them on some 15"x10" Pro Comp Black steelies. Much better ( and much quieter) than the 33" Swampers that were on the truck.
Here is everything freshly installed before the first wheelin' shakedown run.
Everything worked great, and this thing wheels like a champ.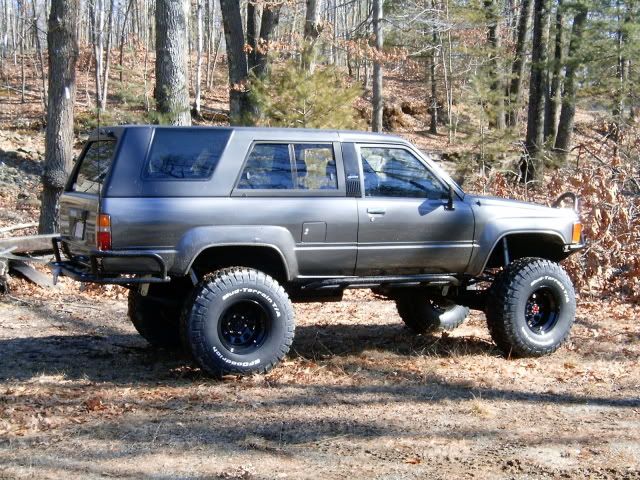 I had also been on the hunt for one of the ever elusive original "Can-Back" soft tops for my truck for as long as I can remember. Since they went out of production 10+ years ago nobody that has one wants to sell them, or If they do they ask a ridiculous amount of money for them. I had looked into the "best topper", or had even thought of fabbing one up from scratch, but I really liked the overall look and functionality of the Can-Back and have held off with the other options all this time hoping to eventually find one.. Then recently (purely by accident no less) I came across a newly listed complete one on Ebay and before I knew it,the deal was done and it showed at my house. ( again my UPS guy hates me by now..!! LOL).
I finally pulled the hard top off and started getting ready for the soft top to be mounted up ( after a thorough cleaning and new re-paint on the cross bars and bows).
And here it is all freshly cleaned and installed. All that is left is to install some snaps onto the tailgate for the rear window section, and then I can start fabbing up some sort of roof rack cross bars to mount my cargo basket, Hi-Lift jack and shovel. I'd LOVE to find a set of original "Can-Back" cross bars for this, but I've got a feeling that won't happen.