Dad and I got some more work done on the 200 Sunday, only ran into issues with having to wait for Amazon to next day some o-ring grease since none of the 4 parts houses in the town had any and a small problem with one of band clamps that came with the RPM Motorsports intake tube I bought for the car.
we started by taking the car apart so we could replace the stock, early Pentastar lower intake with the updated Pentastar Up Grade, or P.U.G. piece that is supposed to flow much better than the original design, pics of which will come up later in this post.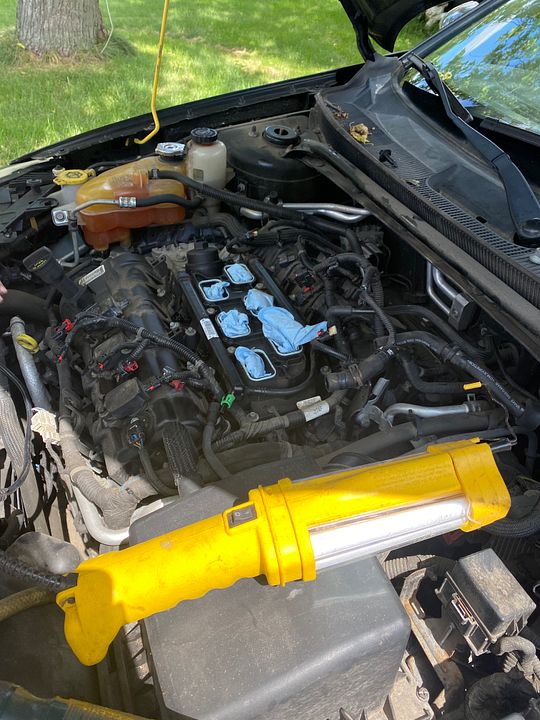 The above is what came off and was replaced with the below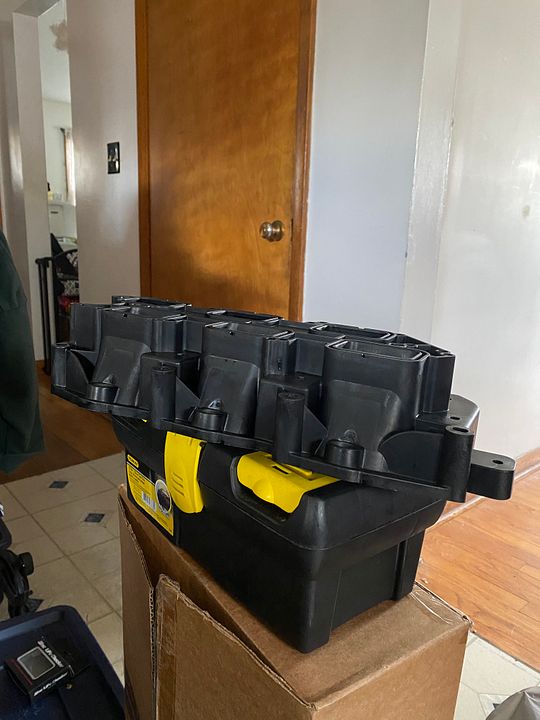 and here is why I was putting it on, there's a good sized hump that runs top to bottom in each runner in parallel with the fuel injectors for each port, but for no apparent reason that I can think of when at least 95% of that plastic is just a restrictive waste of plastic, while the P.U.G. just has a little bump where the injectors actually enter into the runners down near the ports in the heads.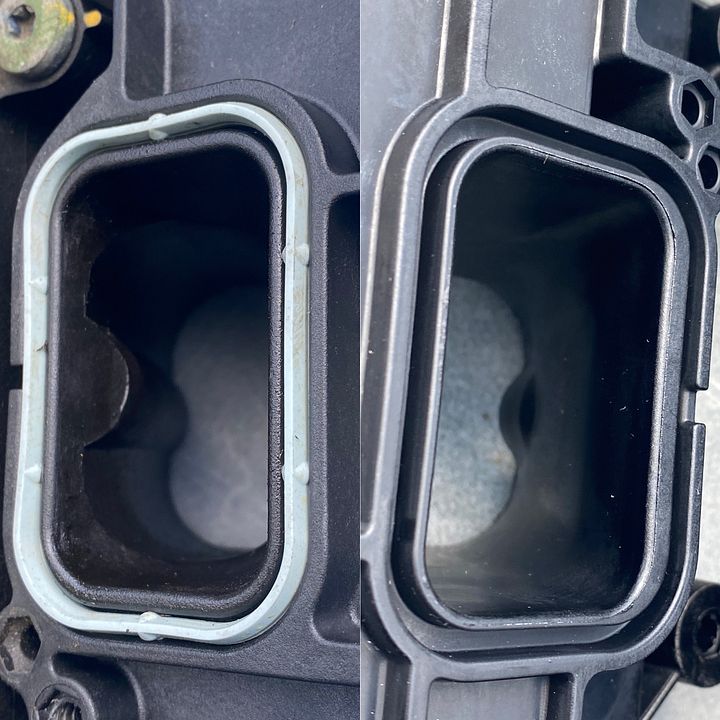 Since I've run almost nothing but E85 in it since it was nearly new, Dad wanted to see how the intake valves looked after over 9 years and nearly 120k and he was not disappointed either.
Once we got the grease in, we lubed up ALL of the o-rings associated with the manifold and dropped it on, and I greased up the MSD coil packs with die electric grease and installed those while we were waiting too. Didn't need ton worry about the oil cooler or plugs since the dealership took care of those last September, took it in for the cooler and had them do the plugs while they had it.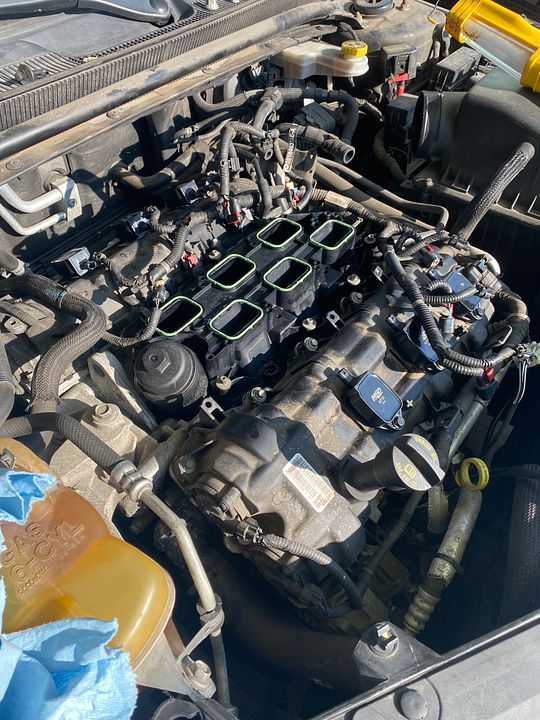 Once we had the upper back on and connected, I started to install the intake tube in place of the stock corrugated tubing and resonators that go between the airbox and TB, but ran into a few problems.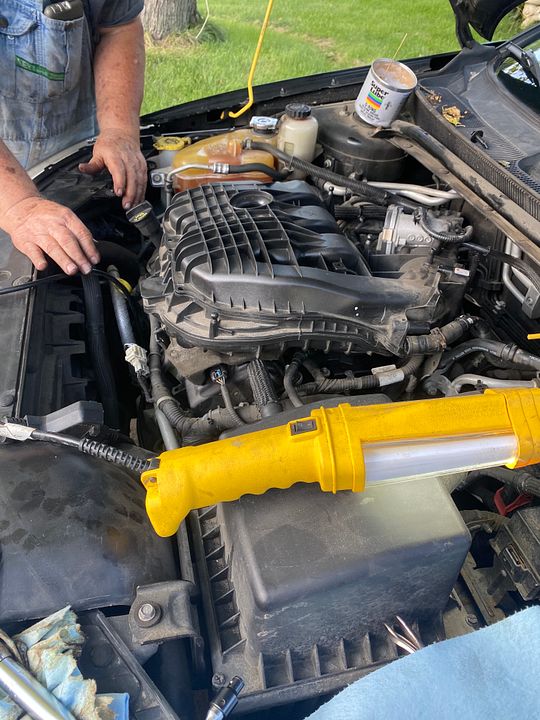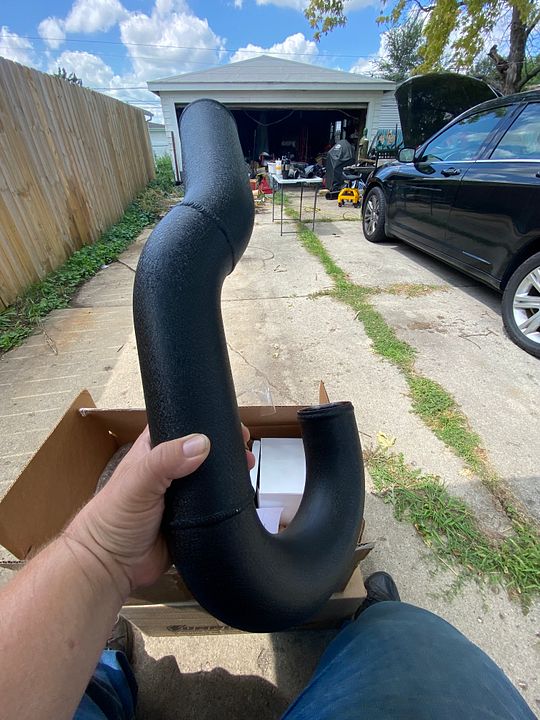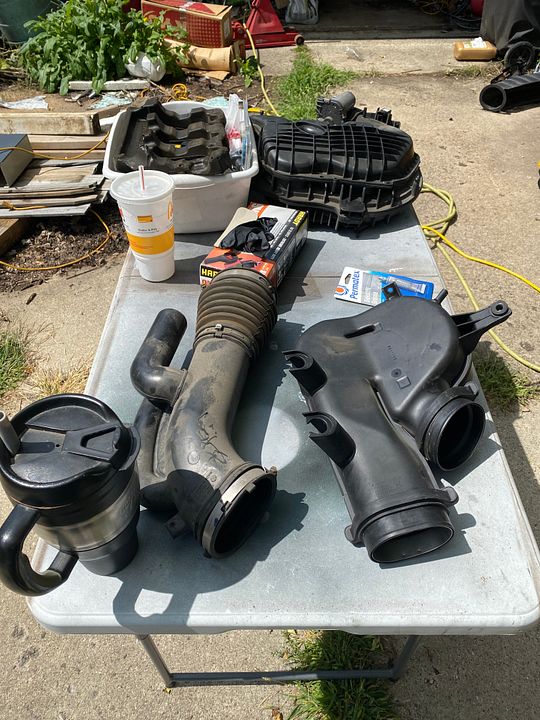 To start, the silicon coupler popped off the throttle body and dropped down to the exhaust y-pipe and crossmember meet, so I had to jack it up and pull a tire to get under the car and grab it off those together, then put that back together, get it back on the ground and then couldn't get the included T-clamp to open enough to get it and the coupler both over the flange on the TB, so I have the stock parts back on until I can get a slightly larger T-clamp.
I did start the car without the intake are temp sensor plugged in and that tripped the check engine light and I haven't driven it enough to get it to turn back off, yet and the headlight on that corner decided to die too, so I have those on order since, like the o-ring grease, I can't find those locally right now either

Now while I was under the car trying to get that coupler out of the crossmember, I did see something that made me very happy, a very clean, solid belly!
For a nearly decade old nearly 120k mile car that has spent it's entire life in northern Illinois, I was happy to see so little rust under it

After we got it back together, I took it out to grab dinner for Dad and myself and by the time I got back home with the food, it had relearned what was needed for this intake and is starting to drive a whole lot different, and almost more like Dad's 2020 Grand Caravan with the most recent version of this drivetrain, which makes me think that he already has this lower intake in it already too. Power seems to come on quicker than before and spins the bigger, stickier Z-Rated BFG's I have on it now almost as easily as it did the T-Rated Goodyear hockey pucks it left Sterling Heights with! About the only options I have left for the engine at this point is a ported TB, cat back exhaust, and tune, though other than exhaust when the factory one gives up, I'm not sure if I'd even bother with a tune or a TB.
Beside those, the only other performance options I'd have left to look at on the car as a whole would be BC Racing coil overs, wider wheels and tires, then sway bars and links, which I have thought about just one of the thicker Avenger R/T and 200S rear bars or if the front crossmember has to come down in the future, look at a Dodge Journey SE V6 front and R/T and GT rear bars since those would be thicker still and since they share the platform, should be a direct swap. Whiteline Performance has the links and urethane bushings that fit these and a number of other cars as well and could be an option in the future too.