Recently, I was browsing the For Sale threads and found a good deal on a TJ body. The pics looked good, and the trade looked good, so I had the TJ body sent.
The body needed a little work, here's some pics from the ad:
The previous owner cut the hood in the wrong spot, but he did a clean job of the cut (mostly) so it was an easy fix. I won't need or want a functional hood, and I'd rather have the strength of the body with it attached. While I was messing with the hood, I decided to add in some SLR vents:
The interior was missing a center console, and these bodies have the seats WAY too high, so I took the SLR interior and inner door panels and placed them in:
Then I decided to stretch the body to the dimensions of a TJ Unlimited aka LJ. While doing that, I noticed the rear floor is a little too high, so I dropped it down and put the bed from a Dodge Ram in:
I have a LOT of body work to go still, a lot of filling and sanding, and of course I always use Oatey ABS cement for these kind of bodies.
Just playing around with wheelbase and height on my Dodge: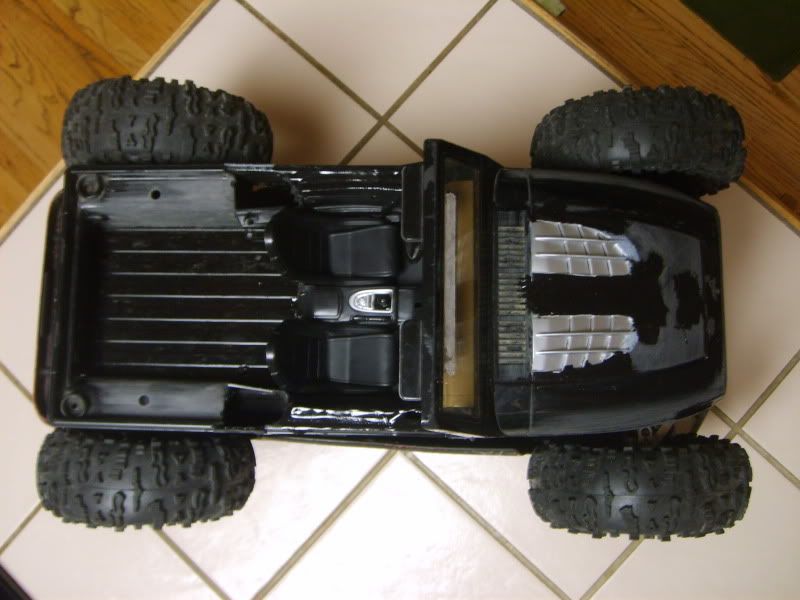 This is pretty close to what I want in the end for it, but of course I will use scale tires, the rovers are just for size reference. Once I get the body done, I will start the cage/tubework. It will be something simple, to keep weight down, but enough to protect the body.
I still need to acquire parts for this, like axles, shocks, frame, GRU, etc, really all I have right now for it is wheels, trans/dig (yes I will have a dig, with a lockout feature for comps), driveshafts, motor and a few other small parts.
This will likely be a slow build as I get parts for it.