Ok so this one gets a cool name from the start "Victim" or V2 for "Victim 2 be had"! The original build of this chassis was here!
"Country Boy Customs" Class 3 -TTC!
I won the local scale comp with her in her old form weekend before last, so, since I tore her apart and cut her all up again it is now here! Same "CBC"chassis but it will have all kinds of new goodies to sport! Heres the list:
Holmes ESC
Holmes 7t Puller
Hitec 7995 front and rear
Chassis mounted steering on front axle on rear
Axial all metal tranny WITH 32P MOD
Punisher shafts
RC4WD beadlocks with Rok Lox 2.2
CKRC 4 link plate
big bore shocks
Axial semi built axles- allum nucks and c's-GUNNER tube mods front and rear
Same 73 Bronco hood and side panels
ALL NEW FUTABA Electronics- 4pl and rx's
3rWinch (To BE ORDERED) or maybe a servo winch- not decided)
Well first chore was to start tear her all down down. Being she just was built is was pretty well muscle memory,lol. But I had to get the dig off and paint the chassi again. It haD A SCUFF OR 2 ON IT.
This pic shows why its getting a 32p gear mod. I will be running 54/9 or 54/12. The lil pebbles and sand are hell on these things! This pic also shows the horse power very well
This is her before her new paint. She is drying as we speak!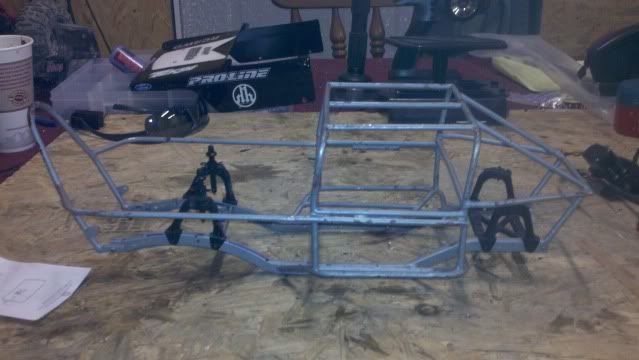 These rigs are totaly unlimited! I love em. Tear em down and build again, over and over,lol.
4ws and the power this things has should be awesome. The reason I stuck with original chassi is because how well it does on the trail and rocks. She was 7lbs flat when I tore her down. She will come back no less than 8 or 8.5!
Now she will sport the Bronco hood and side panels of her past life(last week) until I get the custom painted 73 Bronco or 70 Ford f100 hood and side panels custom painted with "Country Boy Customs" official paint scheme! ( I had to do somthing to make people want to watch this thread,lol)
Disclaimer: You all see "Country Boy Customs" on everything I do. With that said I am not a Chassis builder for customers! I dont make money off of it. "CBC" is simply a scale team that I started that likes custom tube work and riggin things up! Our builds, even though will probably be sold(fact of life in this hobby)someday, are originaly built for our own use!