Well here is my first shot at a somewhat scale trail rig. Wanted to make a thread to document my progress.
When I first got into crawling I started out with a Venom Creeper, by the time I was done with it there was little left that was still a "Creeper" and couldn't keep it from breaking. So I gave up that project and did what I should have done in the first place which was buy a SCX10 Honcho Kit. Buddy has the TR Honcho and I was always jealous of the looks and the simple fact that he could drive and have fun without breakage issue's.
When I first started I had a plain Jane Bronco build in mind and since then I'v just ran with it. Sorry in advance for the cell pic's and the poser shot's......she's only been on one 3 hour trail run and forgot the camera at home.
Spec's
Hacked FlySky GT3B 6CH. 2.4ghz
Castle Sidewinder
Novak Glitch Buster Cap
Venom 13T (after Christmas will replace with a Holmes 45T hand wound)
EXI 208oz servo (going to run it till she gives up the ghost)
Castle BEC
2 & 3 cell Lipo's, 3000mah-5000mah
LVL 3 Lift kit
Custom shock tower bracing
MThead bead lock rings (KILLER LOOKING!)
Stock drive shafts with Traxxas hardend steel yokes and Axial rings
Dingo fender flares
Proline accessory kit
The Proline Bronco body isn't what I thought it would look like. Realized its about over an inch to long between the front door to the rear fender well. Guess i'll have to get over it and work on a more scale body for the future. That pretty much sum's it up as she sits, opinions welcomed, help or idea's also.
First day of kit completion.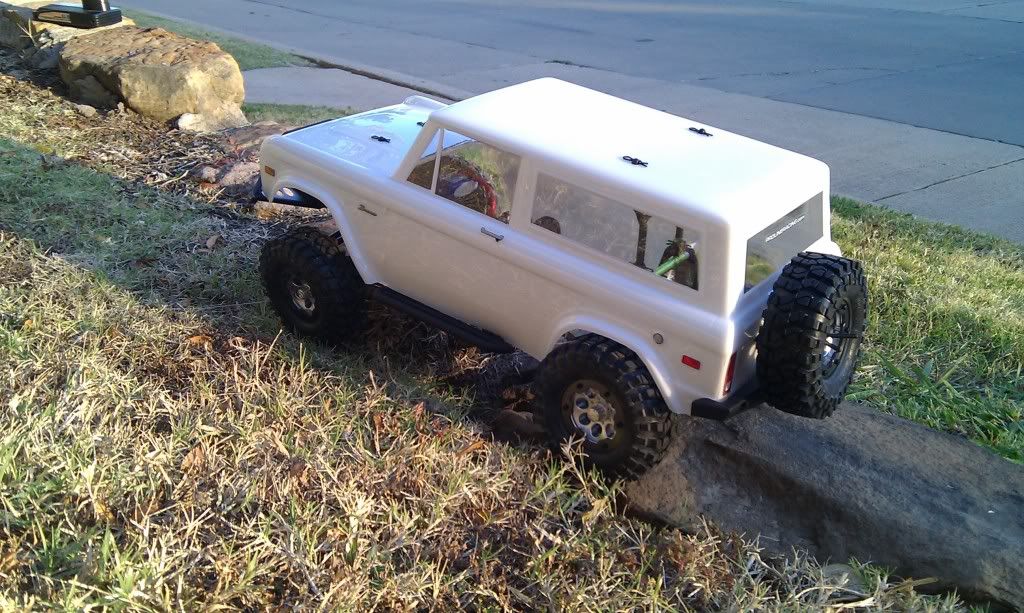 Here she sit's as of right now.