Hi everyone.
There have been complaints popping up about the untimely demise of RCC at the hands of FB groups. Well guess what? That's your fault dammit!
You may ask "Why are you blaming me, SVT?"
Its simple, we create the content that makes people want to come here and we have been severely slacking in that area recently. Since I'm extremely humble, part of that blame also lies with me. So, its time to start picking up the slack.
With that, I'm here with something else I made. It's not really a build because it started life as a RTR but I will do unspeakable things to it regardless.
Behold the Axial Racing 1.9 Wraith.
Elegant in it's simplicity but unique in the space of 1.9 RTRs.
I got a chance to borrow one of the inital demo models from our local shop before the actual release. I loved it because it's a 1.9 Wraith, it can do no wrong in my eyes.
It was poked and prodded because that is what you do with a new truck.
Of course, this particular truck wasn't actually going to be mine so the crap got kicked out of it as well.
Sucks for whoever got that truck after that.
A few weeks later, my shiny, new 1.9 Wraith arrived.
Gotta say, the quality of Axial's RTR construction has really gone down hill.
While some people sit around and whine "if only it came in a kit!", the industrious make our own fun.
I'm going to move on past a full breakdown of the RTR. It's exactly what you would expect if you have seen a SCX10II and a Wraith wrapped in a sweet body.
And now where to begin with the good stuff?
How about here?
The stock axles are the Axial 1 piece housings with the sintered 1 piece gear/locker which are generally fine. Better than fine are these SSD Pro44 axle housings. I bought these for another build that never actually got built so it seems like a perfect time to use them. This particular rear axle was built with Axial machined gears, a Vanquish locker, SSD aluminum link mounts, and the optional SSD red diff covers. Red diff covers are the universal signal for a totally sweet truck so it's obvious why they are on this build.
The front axle is much the same except is has stuff to make steering work.
SSD knuckles, c-hubs, and Axial universals were added because turning is helpful. I'll cover the links later so just ignore them for now.
And its later.
A full set of 3/16" stainless links from Hardcore RC were ordered because his links are always great and 3/16" is the perfect diameter on a scale-ish truck. Note how I put the rear uppers and front lowers in the wrong locations: I'm really terrible at this.
In the spirit of using things on this build that I bought for other things that either didn't happen or got reallocated to other trucks; here is the new transmission.
The newish Axial LCX, LSX, NSX, RST, LMNOP, or whatever meaningless letter combination the gray 1 piece transmission is called is fine, much in the same way as the axles. Normal people will get a long life out of it, I got precisely 0 minutes from it. Out it goes for this Vanquish case stuffed with a combination of Hot Racing and Robinson Racing gears with an Incision topshaft/slipper eliminator. A Super Shafty motor plate will be performing the duty of holding the motor.
Speaking of the motor, the Holmes Puller Pro Stubby in 2700kv flavor was chosen for this truck because:
A - Its a Holmes motor so it's friggin' awesome
B - Its faster than the stock Axial 35T brushed motor
C - The Stubby design provides maximum clearance for a chassis tight on space
D - All of the above
The answer is all of the above, its always all of the above.
While we are on the skidplate, let's talk about these:
I picked up a set of these Eyeball Engineering link risers. This is the point that I could pretend that I'm a crawler suspension tuning master and spout off the benefits of anti-squat and chassis side link separation but really it would all be a sham so we will keep it to link risers = good.
Really I bought these because when Duuuuuuuuuuuuuuuuuuuuude makes a product, it ends up being highly desired in like 4 years and I can sell these for about 5 times what I paid or just rub it in people's faces that I own a set. Its the RC version of Bitcoin trading.
Anyway, about that Stubby motor clearance.
The PP Stubby is short enough that the rear upper links can be installed on the inside of the link risers. Does this make a difference? Is the answer outside of link risers = good? Then I don't know.
Before we wrap up this installment of 1.9 Wraith II, let us take a moment to discuss the major failing of this new 1.9 Wraith. It is pretty obvious I refer to the lone, unsupported rails that serves as the bumper mount. These rails take all the impact of hits to the bumper which is frequently too much for the rails as they either bend way too much or snap at the first screw hole. Shortly after my truck was delivered, I came up with these:
My idea behind these bumper braces was the force of impacts to the bumper would now be distributed to the first down bar. The movement of any flex is in the lengthwise direction of that down bar, where it is strongest.
A gif to illustrate the difference between stock and even my original PLA printed prototypes.
For you analytical, scientific types, that is approximately a 1,263% reduction in bumper flex. With that infalible, concrete proof, I had a set of my braces printed up in nylon for a stronger, more legitimate looking part.
Since I came up with these, a few companies have released their versions of a bumper brace. A few versions are flat plates that attach to the bottom of the bumper rail which I'm skeptical will not bend along with the chassis rail in a good bumper impact. Then SSD releases these: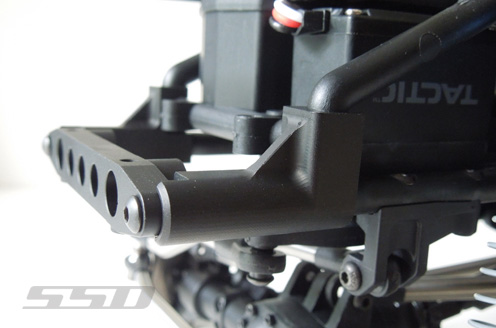 You know what they say about great minds Mr. SSD. I would have totally bought these more awesome aluminum versions had they been available 3 months ago.
Well, that is where we're at mechanically so I'll leave you to guess what is going on in the next phase.
Now, I have done my part on improving RCC, now it is up to you. Not only will I accept and acknowledge all compliments related to this build, I will also provide discussion on a wide range of topics such as:
- Upcoming RC releases from SSD, Element, and Vanquish
- The horribly ugly front end of the 2020 Chevy Silverado HD
- Are hazelnut spread M&Ms the new best flavor?
- The hilarious disaster that is the NY Knicks 2019 offseason
- How to parent your children
- Geo-political relations in the South Pacific
- Should you LS swap that?
- Income tax planning for the 2020 filing season
- Best quotes from Archer
- Mocking prominent RC social media personalities
All these and many, many more.
Interact today!