I first got this body in 2009 and I never could think what I wanted to do with it. Hard core crawler or on road. Scale or trail. Turns out (minus the un-scale rims) I was able to do all four. I started out with a Slash 4x4 and as you can see cut her in half.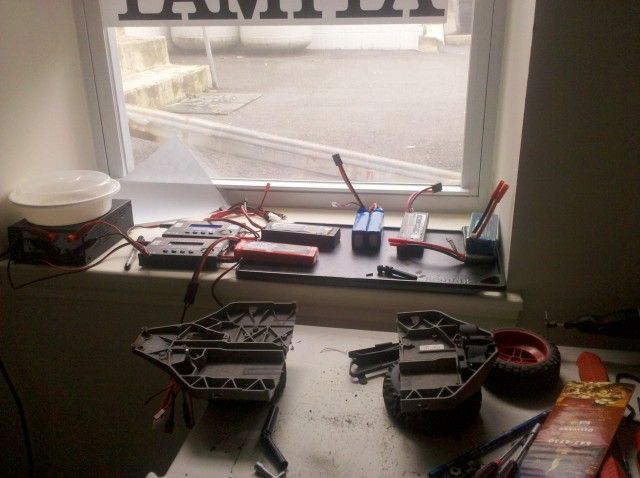 I wanted something that could preform very well on trails and due to its size I knew that a locked 4wd would not due it any favors in its turning circle. AWD would allow the turning radius to be good but limited trail ability. So I had to develop a automatic 4wd system. And since I am a big Subaru person I went with a FWD biased auto 4wd. The front wheels Always turn with the motor. I like this the most. When coming up to rocks I do not have to wait for the auto 4wd to kick in to power over the obstacle. Also when climbing very steep grades it allows enough slip that the truck can not wheelie back on its self. So I had to make something that could transfer 85-100% of the torque supplied to the clutch to the rear wheels. And as little as 10-15% To test this I rigged a arm to the output of the clutch and used a scale to test the force. I got pretty damn close to what I wanted. I also wanted "limited slip" front and rear diffs. I started playing with non-Newtonian fluids and found something that worked. And the spot where the center diff once called home was a perfect spot for the 4wd clutch. I will try and get a video of the 4wd system working.
So Auto-4wd and limited slip diff. Done and sorted. Now for the gear box. I had a 3 speed Tamiya box laying around so I used that. Turns out that this gear box is a hell of a lot tougher then I (or Tamiya) thought it could be. I started out this truck using a brushed 21t 550 motor. But I soon got very bored with this and thought the extra torque and rpm of a BL motor would be great with the three speed box. Had a extra Velineon system laying around and it was all handy since I wanted it to stay waterproof. Only down side is that if the esc is submersed I loose the ability to change direction. But any way. It will now do 28mph in 3rd and had enough power in first to tow a 60 pound kid in a bike trailer (total of 85lbs) and I can even get in to second with that load. So all in all. Impressed.
Suspension and tires. Tires were just Axial something or others from the old AX-10's streched on to a set of Offna 3 inch wheels. And the suspension is pretty much just the stock Slash 4x4 springs. I left the sway bars on but loosen them up for off road and lock them back down for the rare occasion that I run a long street run. It flexes a good bit. The chassis is pretty stiff so it is very predictable. You really know how it is going to act at all times. I wanted a prefect weight distribution. And I got it.
Body..... Well Nothing pretty there. I kinda just made it work. Some plasti-struct and a dremmel tool. A bit of blue paint add license plate and Penguins sticker and all is done.
I built this back in october and she has 104 hours on it as of typing this post. I put the big girl through hell in snow, mud, ice and deep water. Trails a plenty. I even put it on a race track with 14 jumps. And she just keeps going. I can't wait to take it to the beach and put some real sand under the tires. Well here are links to photos and videos. Enjoy.
This photo was before brushless and before the auto 4wd unit was done. I was still testing it and I wanted to test the truck so I just used the stock 4wd slipper spur shaft.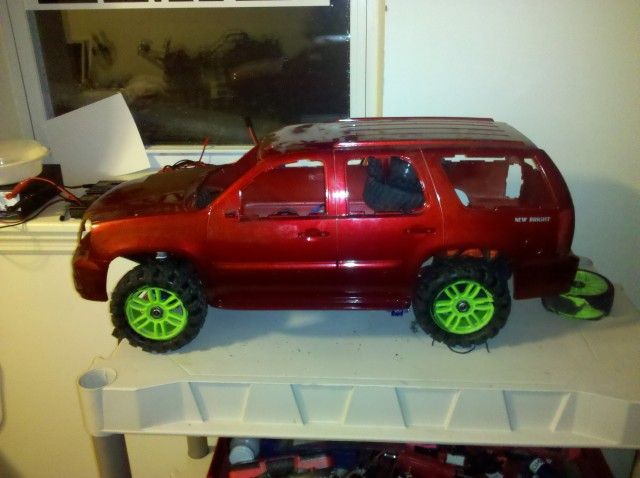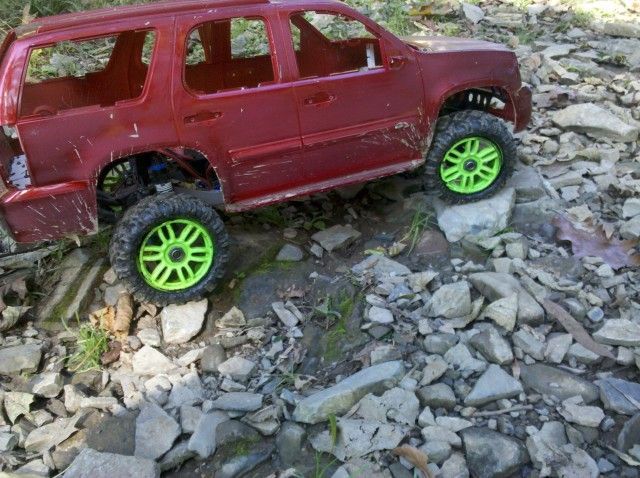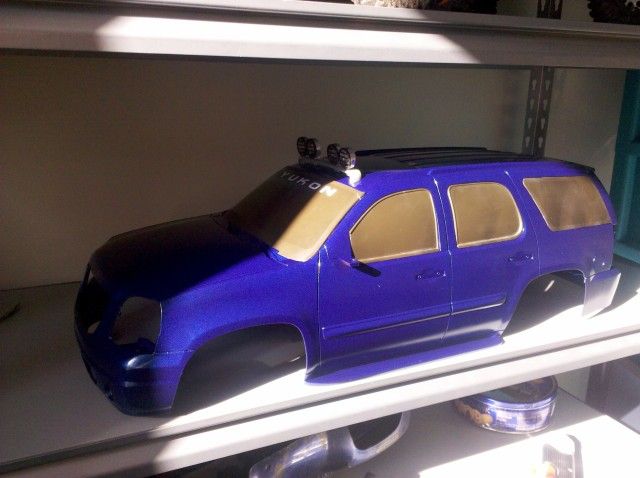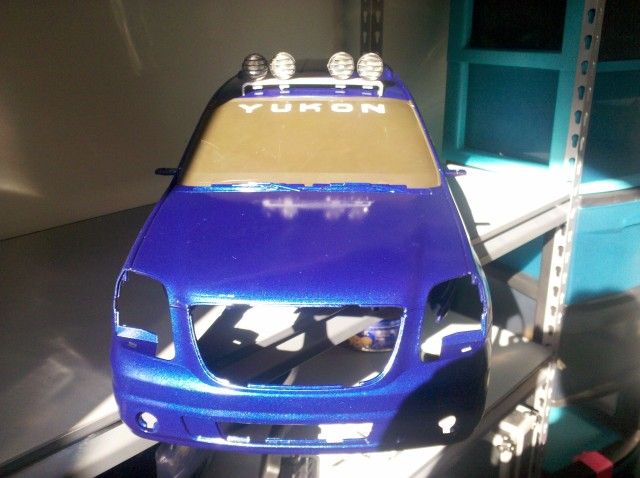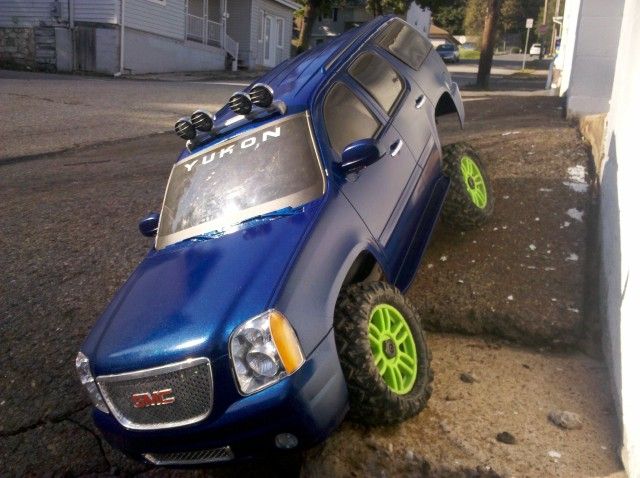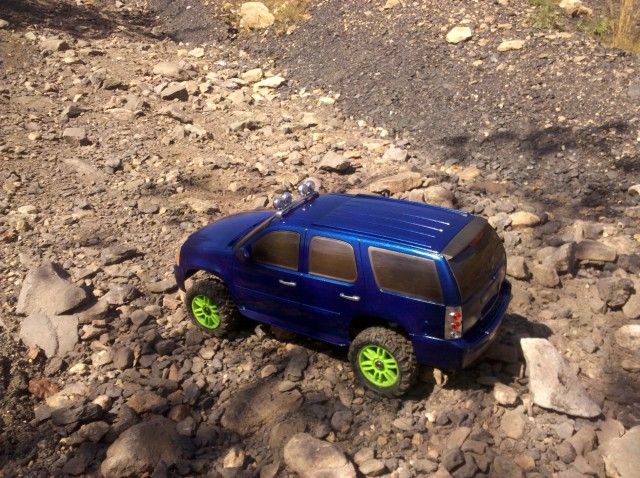 Before brushless test video:
GMC 1-8 scale Trail truck 3Speed with Auto 4WD.MP4 - YouTube
After Brushless. Going in to the creek.

1/8th scale 4wd GMC Yukon creek crossing.MP4 - YouTube