Hi all, I'm located in Australia and I want to get into crawling so I got myself the following parts:
Axial ARTR kit
Futaba 3pm-x 3ch 2.4ghz
Turnigy 1800mAh 2S Lipo Pack
BMS-660DMG+HS Servo
Pitbull Rock tyres
Pitbull memory foams
VP 4 link rear plate
VP 4 link front plate
VP Incision Pro Axial Chassis
VP Zero Acker HS knuckles
VP shock mount razors
LiPo Battery Low Voltage Alarm Indicator
Charger
55T Axial motor
ESC Nosram Tomahawk (Existing) - I'll see if it works otherwise I'll have to get something else.
I plan on competing after some practice, but the problem now is I have no idea how to set up the 4 link front and back, I have to keep the 12.5" WB, I have bought some link ends, threaded rod and delrin rod for the links. Is there a method to set the suspension links up? Like place the chassis centred between the diffs on a block of wood or something and then measure from diffs to chassis and cut and add link ends??? Does anyone have a similar list of parts to me who can give me link lengths and hole posistions they've positioned the links too. I have kept the Axial shocks for now.... Help please!!!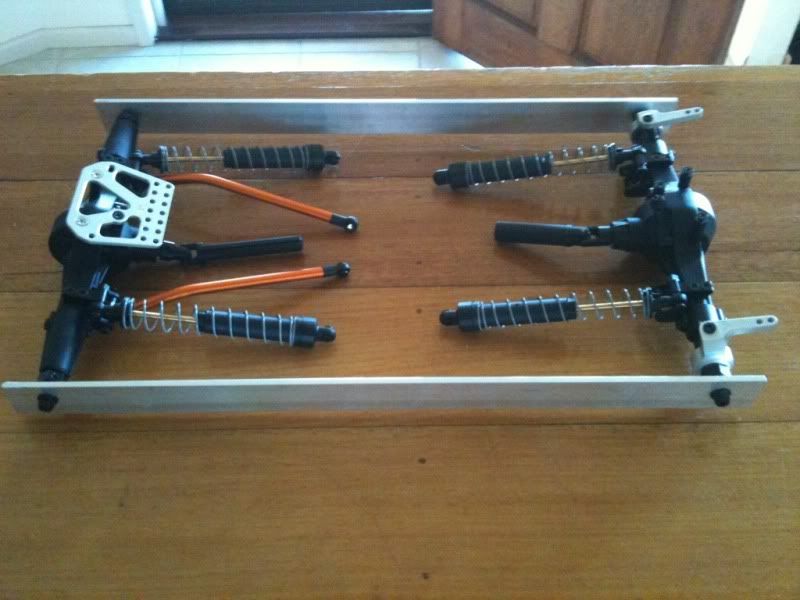 (Front 4-link not shown)