Well guys, today I was finally able to do our King of Spring Park race. I had originally planned to do it last spring but due to lots of snow in the mountains and lots of rain, the Willamette River was very high until June.
We had twelve 1.9's and fifteen 2.2's sign up to compete.
Here is a google earth picture of the area and the course.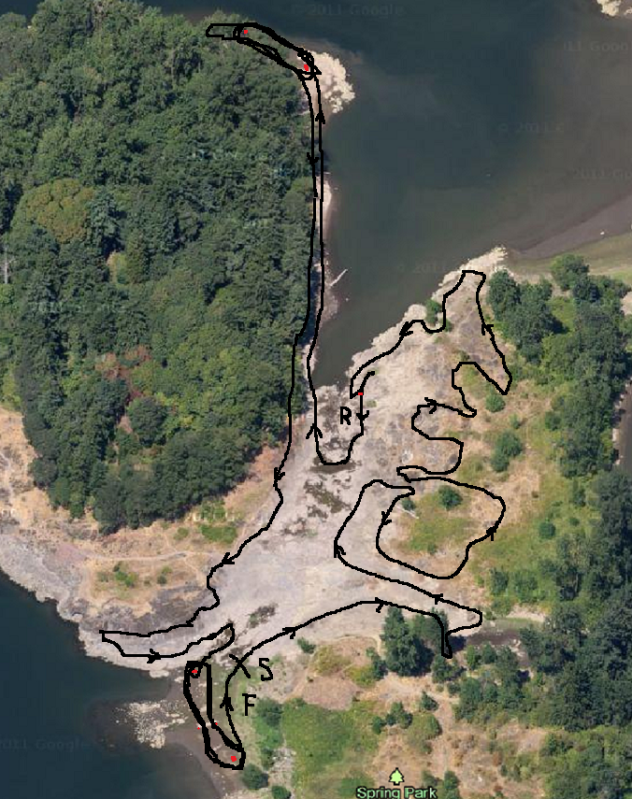 The course is slightly over 1 mile long and has over 100 gates and 100 flags. It consists of lots of rock, mud, and water. The weather kind of sucked....it had rained over night and showered all day long which made for some sloppy conditions.
The start was a motocross type start with twelve 1.9 rigs hauling ass 150 feet to the first 24" wide gate.
Five minutes later the fifteen 2.2 rigs lined up for the start. Needless to say, the 1.9's hadn't made it very far and in no time most of the 2.2's had engulfed the smaller rigs on course.
Here is a picture of the 2.2 start line.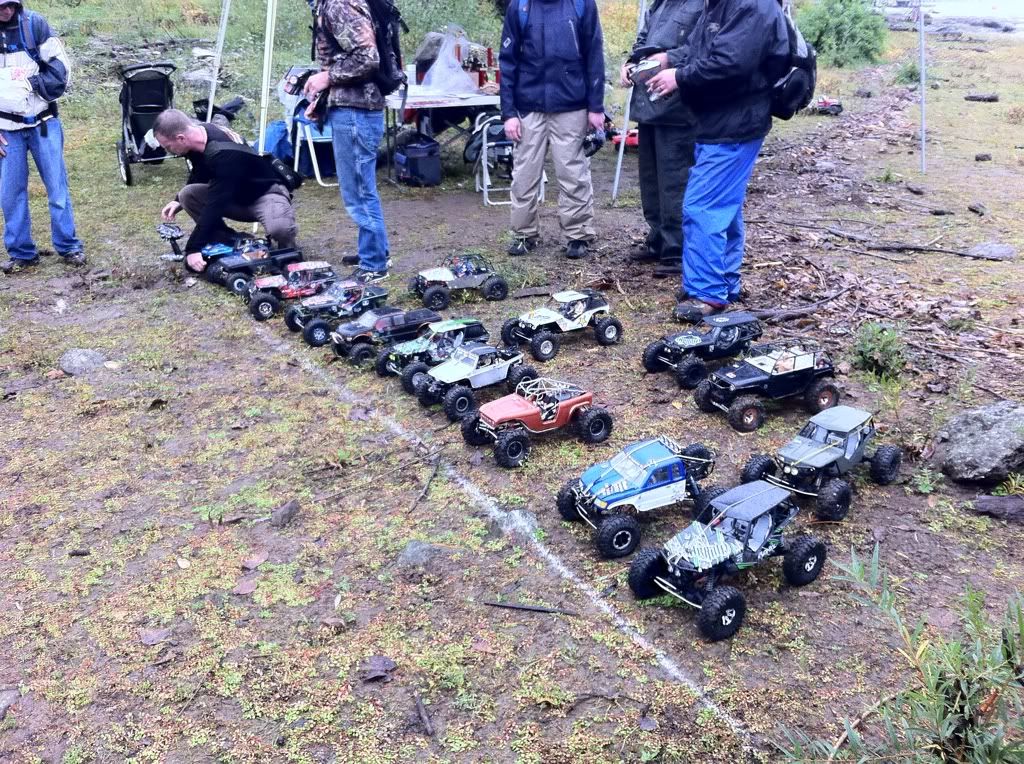 There were some big names lined up for this race. Superdave, RBGerrish, MG200, Hotwheels000 and others made this quite a competition.
The course had a section halfway through where you had to reverse up a "lionsback" rock formation.....this proved to be difficult for the 1.9's and most everyone that hasn't practiced driving in reverse. Then 2/3 of the way through there was an area on the beach where you had to do 10 laps around two 12" traffic cones that were 200 feet apart. Then just before the finish, there was another area where you had to do the same 10 laps, but there was a rock section in the middle where you had to slow down and climb over the rock and drive through some gates.
The final results:
1.9
1st: Kyle F. - 45:04
2nd: Dustin (scuzzy) - 58:28
3rd: Grant (locked&lifted) - 1:29:34
Donnie DNF
Chuck DNF
Anthony DNF
Joey DNF
Ben DNF
Braden DNF
Josh DNF
Slavic DNF
Jason DNF1
2.2
1st: Dave (superdave) 37:13
2nd: Trenton (mudgorilla) 39:11
3rd: Tim (war pig) 43:03
4th: Ryan (rbgerrish) 47:35
5th: Devlin (hotwheels000) 55:48
6th: Fabricio 56:12
7th: Tyler (tznutts) 1:17:48
8th: Luke (skywalker) 1:18:57
9th: Damien (omenwolf) 1:24:28
10th: Eric (killer AX10) 1:29:58
Dustin (zuki503) DNF
Austin (slammedchevy04) DNF
Chris DNF
Ross DNF
Mike (evolone) DNF
Hope to be able to include some pics soon. I did see a few people taking pictures, hopefully they got some good ones!
Edit: We have a video
http://www.youtube.com/watch?v=Wz51tWvKzwI