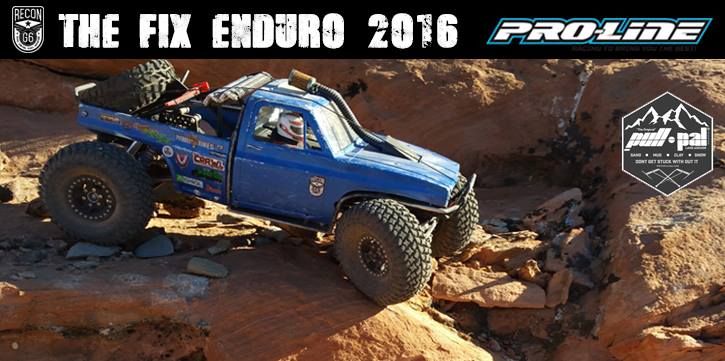 The Fix Enduro 2016 presented by Pro-Line Racing.
Sponsors - Pit Bull Xtreme RC - Pull Pal RC - RECON G6 - Die Rosterin - (your company here)*
The Fix Enduro is a rc scale endurance event created by RECON G6 that is designed to test you and your scale adventure rig.Pro-LIne Racing calls it the rc version of King of the Hammers. New this year is each driver gets to pick how to push their own limits with 3 endurance times; 3, 6, or 12 hours of FUN! Each driver to attempt an the Fix Enduro will receive a RECON G6 adventure pack with limited edition Fix stickers & each finisher will receive a Fix Finisher sticker &/or morale tag. The top 5 overall finishers in each class will receive a one of kind trophy provided by Pull Pal RC.
Do you like to drive? Do you like to push your limits? Do you like to have fun? Then we have your fix; the Fix Enduro presented by Pro-Line Racing.
A glimpse into the history of the Fix Enduro, simply known as, "The Fix". The Fix started the rc scale endurance event scene with the first ever 18 hour rc scale endurance event held appropriately at Warrior Point on the mystical Pyramid Lake, Nevada. Where 5 drivers embarked on an endurance event that tested their mind, body, & scale adventure rig to limits never seen before in the rc world. All 5 finished after starting at 9pm on Friday and finishing 3pm Saturday. The products that they used on their scale adventure rigs that withstood the 18 hours of abuse, became the first RECON G6 Certified products. What does that mean, you ask? Well, simply put, when you see the RECON G6 Certified Stamp on your favorite RC company's products, those products have been real world tested by drivers just like you in a real world endurance event.
What – THE FIX 3, 6, & 12 Hour Endurance Event presented by Pro-Line Racing.
When - November 4th & 5th, 2016.
Where – Apple Valley, CA at Horsman's Center Park;
Times - Friday - 3pm to 4pm Course open to walk. Driving is not permitted at this time on course.
5pm to 8pm, Driver Check-In. (Location TBA)
Pull Pal Fireside Chat - 9pm to ???
Saturday - 0800am - Stage Vehicles
0830am - Event Picture.
0850am - National Anthem
0900am - Start for The Fix 3hr, 6hr, 12hr Enduro
Objective - Finish.
Classes
*NEW* 3 Hour Solo - Driving your rc car for 3 straight hours is more difficult than it sounds. Especially when the stage is designed to push you and your rig to the limits for every minute of those 3 hours.
*NEW* 6 Hour Solo - It's time to feel your adventure. That you will, after 6 hours of rc scale adventure driving designed to push you and your rig to new levels of fun.
12 Hour Solo - It's time to experience what rc scale endurance driving is all about. Designed to play on sleep deprivation, mental awareness, physical conditioning, driving ability, mechanical attrition, & a driver going beyond what he or she thinks they are capable of. The finishers of this class, will earn the companies of the products that they use, the coveted RECON G6 Certified stamp.
*NEW* 12 Hour 3 Person Team - The Team Class will feature 3 drivers, each driving, their own scale adventure rig and helping each other endure 12 hours of the most intense scale adventure team driving to date. Teams will face with driving challenges & team challenges designed to test team cohesion and decision making and pushing teams to new levels of fun! Teams that finish the Fix, will earn the companies of the products that they use, the coveted RECON G6 Certified stamp.
*NEW* 6 Hour R.A.D. Class - For our handicapable rc endurance drivers who get their rc scale adventure from the driving seat of a wheelchair, this is the class for your rc scale endurance fun.
Entry Fee - 3hr Solo - $25.00
6hr Solo - $50.00
12hr Solo - $75.00
12hr 3 Person Team - $150.00
R.A.D. Class - $50.
Pre-Register Here -
http://www.eventzilla.net/web/event/...ing-2138877164
***Attention*** Pre-Registration ONLY!!! There will be no registration available the day of the event.
THE FIX Enduro Details & Rules
- The fix is a multi-lap endurance race. Drivers will negotiate a marked stage that will feature various types of driving conditions that will continually test driver and machine.
- Drivers will be tasked with performing driver challenges for time bonuses or time penalties.
- A winch is not mandatory, but there will be a mandatory winch section. If a driver does not have a winch he/she must use the supplied winch to complete the section.
- A tow strap is mandatory and will be used during the mandatory winching section & other special skills sections.
- Sand ladders / ramps are mandatory and will be used is a special skill section.
- NO HAND of GOD! Or otherwise known as "HOGGING". All roll overs, assisted climbs, or extractions must be done with a winch or with the help of a fellow competitor using his vehicle in a scale fashion to assist in a vehicle recovery. Using a tow strap or winch is the only way to properly recover or assist a vehicle. A driver or team caught receiving outside assistance or "HOGGING" will be disqualified.
- Driver must check in at The Fix HQ after each lap is completed.
- Pit area will be provided. All drivers are required to use the assigned pit area. Bring your own table and all necessary equipment you may need.
- Drivers are allowed a maximum of 3 batteries total and only two of the three batteries are allowed on stage at any given time. The third battery must remain in the driver's pit area.
- Solo Drivers will have a mandatory 30 min rest period during the first 8 hours. If a driver fails to take this mandatory rest period on their own, the driver will receive a 1 hour time penalty and be required to take a 45 min break at the completion of the current lap the the 8 hour mark expired on.
- Teams will have a mandatory 30 min rest period for each driver in the first 8 hours. Only one team member at a time may take the mandatory break.
- Solo Drivers, R.A.D. Drivers, & Teams are allowed one mechanic. That mechanic is allowed to in the pit area and designated mechanic areas only. A mechanic may not assist a driver in any non-designated areas. Doing so will result in a time penalty or disqualification.
- Mechanics of drivers and teams will be performing a special skills task.
- A driver may carry tools and spare parts with them on stage for any repairs of any breakage while on stage. If a driver does not have what he/she needs to complete the repair, they must leave their rig on stage at the location of the breakage. The broken rig should be set just off to the side of the trail. The Driver may then return to their pits and get what they need to complete the repair. The Driver's mechanic may help if the break occurs in a designated mechanic area.
- Every driver checking in for the mandatory break, must impound their scale adventure rigs for the duration of the break. The Mechanic nor the Driver may check or repair car while it's impounded.
- Tenth Scale RC scale adventure vehicles only. 4 wheel drive is mandatory. All vehicles must come standard from the manufacturer with 1.55 wheels & tires or 1.9 wheels and tires.
*NOTE* - 2.2 wheels and tires are NOT ALLOWED.
- Tires must be a scale replica or licensed scale tire. The tires may be siped or grooved, but those tires will not be eligible for certification. NO CUT & SHUTS & NO COMP TIRES are allowed.
- Scale Adventure Rigs must have an interior 2D or 3D, a driver, a first aid kit, side mirrors, a fuel cell or spare fuel can, a scale fire extinguisher, a scale cowbell, a scale gps or scale map, & one scale "drivers choice" item.
- For a company to earn the RECON G6 Certified Stamp for a vehicle, vehicle must be stock and/or upgraded with only the manufacturer available upgraded parts.
- Drivers attempting to certify a vehicle. That vehicle must be stock and/or upgraded with only the available parts for the vehicle from the vehicle manufacturer. The stock rims and tires must be used. The stock electronics must be used, unless the kit version of the vehicle is being certified. The stock servo must be used.
- Broken parts and/or equipment failure will not be penalized. The time of the repair is penalty enough. ALL breakage must be written in the Driver's Log Book & initialed by the driver &/or the driver's mechanic.
- ALL special skills challenges must be logged in the Driver's Log book. This includes Driver challenges and the results of the challenge.
Course / Skill Sections / Challenges
The course will be designed to test a driver's ability and their scale adventure rig's capability. There will be driver challenges during the stage. The course will feature natural terrain such as rock, sand, mud, clear dirt, and everything in between. Designed for fun, not failure, there is no other rc scale endurance experience like the Fix Enduro.
The course will be marked with ribbon, arrows, trail markers, and/or any combination of the 3. Areas will be marked for vehicle only sections. In the sections, no driver is permitted to walk in the area. If you have to aid your vehicle in these areas, do so with care and only in the allowed ways.
Mechanics Challenge(s) - all solo drivers and team drivers mechanic will have to perform a challenge at some point during the event.
Driver Challenge(s) - "Stop & Pop" sponsored by Pit Bull Xtreme RC. A driver will be required to inflate a balloon, attach the balloon their vehicle, drive the vehicle to as marked location, then shoot the balloon with an airsoft pistol. The balloon must "pop" before the driver can continue. The balloon has to be shot to count. If it pops in any other fashion, the driver must start the challenge over.
Winching Challenge - a driver must attach his tow strap to the supplied anchor point, then attach his/her winch to the tow strap and winch up the obstacle. If you do not have a winch, then attach your tow strap to your vehicle and the supplied winch and winch yourself up the challenge.
Driver Challenge(s) - A driver must stand at a marked location and navigate a set course. DO NOT ROLL OVER During this Challenge!
Team Driver Challenge(s) - One team member will be guided by his teammates through a marked course.
Lemans Style start with twist.
Team Driver Challenge(s) - a Team may or may not have to send a teammate on a solo mission.
Driving Challenge(s) - A driver may or may not have to pull / recover / or drag and an object a certain distance.
Driving Challenge(s) - A driver may or may not have to navigate through clear dirt
DO WORK, DRIVERS!
Note - Intel may change. All changes will be posted. More intel may be added. All new intel will be posted.
* RECON G6 has opened up The Fix for promotional opportunities for your company. Please email
recong6@hotmail.com
for details.