Well i have had a SW3 chassis for a while now, and got bored yesterday so i figured i would switch the SW2 out for the SW3. First thing i noticed is the center of gravity is way lower, even with a higher center clearance. And that stock tlt shocks wont work for this one. I stole some shocks off my tmaxx and ordered some losi springs today that i will be swaping out. I am also planning to put dig on it since ive already got the radio set up, just need the reciever. Specs are:
tlt axles
645mg
pede tranny
55 turn
moped esc
tq3 radio
random suspension links make to about a 12 1/4" wb.
I still am looking for ways to lower the cog because it still is a little higher than i would like. The positon the battery is in now is about the lowest i can get it. Maybe thinking of getting a saddle pack. Any cheap ways to do this without buying anything else? I have a body i will paint as soon as i get paint. there is a norcal comp next Sunday, so i will have to tune and get used to driving it by then. Also i kept getting hung up on the tranny so i cut it up, and ended up slicing the dremel blade into my finger.

So let me know what you think. Oh, and here is the original thread of my SW2.
SW2 Jeep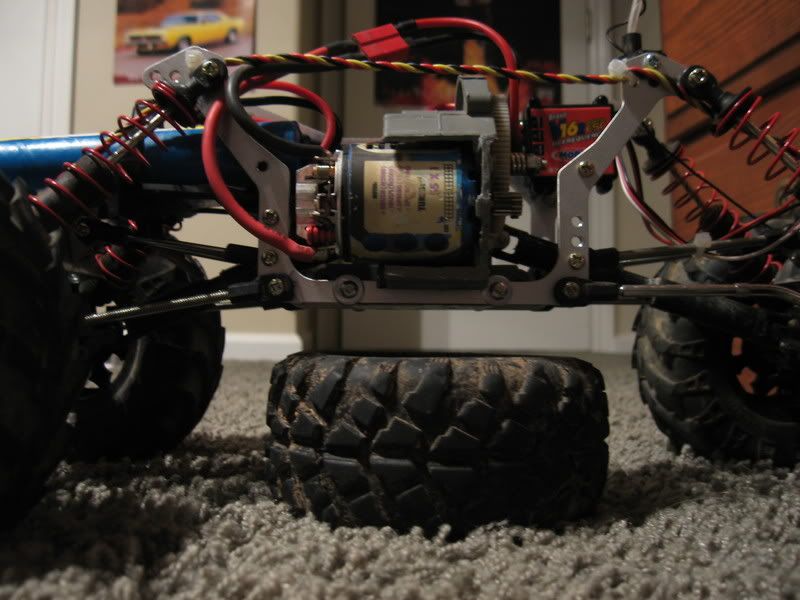 Now, the things i need but can't afford....

Hammer M2 tires, beadlocks, wideners, some real links (there is cracks in the ones i have cause i bent em too far.

) dig, a new 3 channel reciever to control the dig servo, and i really would like some more power. Now, how im going to get that power is beyond me. A new battery would mean a new esc to handle it. A new motor wouldnt do me much good, since ive only got a 6 cell pack. So i would have to upgrade the battery to provide enough power to the motor, and then i would need a new esc to handle the power. So, ya im kinda stuck on what to do. Ill update this with outside pics once i get new springs and paint the body up.