Just about finished up putting together my torch rig. Had to jerry-rig a few things. But I just need to fab up a bottle carrier so the Propane regulator doesn't go tango uniform.
So the basic setup is a bernzo propane bottle and a 20cuft Oxy bottle running regulators to a Swisstorch.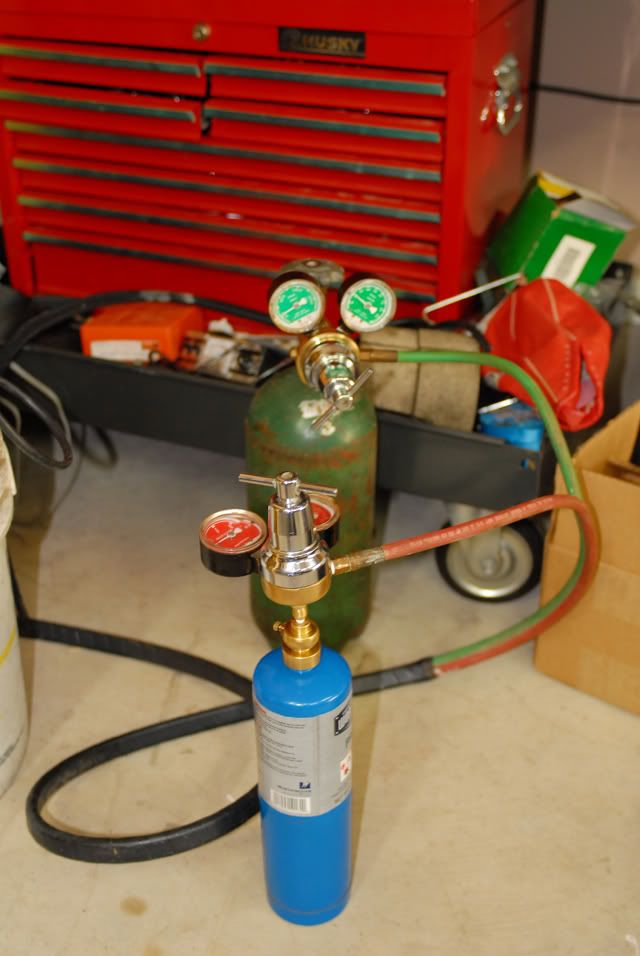 I wanted to have real regulators on the fuel and oxy, ones with gauges unlike the Oxy/Mapp torch kit Bernzo sell which are just valves with no way of indicating what PSI you are using or when your tank is near empty.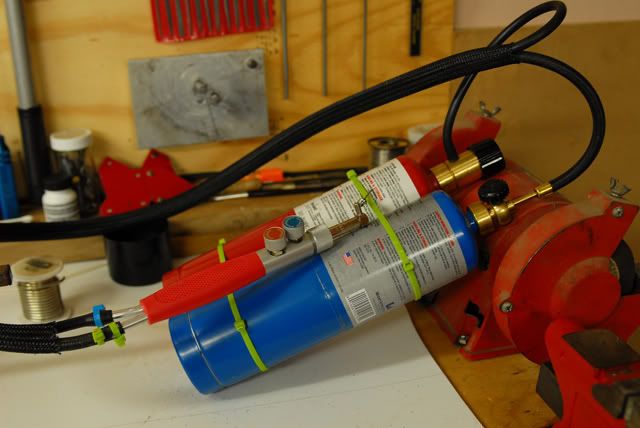 (yes those are zip ties, smaller footprint around the lines than hose clamps and not so unsightly albeit ghetto. Also the hose pressures are very low so zipties hold just fine)
There was never a problem using the Bernzo kit valves, I am a gear whore though and that means I want more complication.
The Oxy regulator was easy, just hook it up to the torch. The acetylene regulator was a TOTAL different story and a complete PITA! So I learned quite a bit in building this rig. For those that have never messed with an oxy/acetylene setup, the first thing to learn is all the different fittings for the different types of fuel. I learned a little of this when I was trying to put together a oxygen system for fishing, there are different style fittings for medical oxygen regulators and industrial oxygen regulators. Also if you have a o2 bottle with a medical regulator you can't get it legally filled at an industrial gas facility.
I mention this because I am using Oxy/Propane not Oxy/Acy. Oxy/Propan burns cooler and me being a newbie at brazing I move a little slower. So that leaves me with a big question, how to a hook up a regulator to propane? Propane and Acy regulators can be used interchangably because the psi I am using is low, Acy has to be run at less than 15psi, after 30psi it self ignites. So Acy regulators typically don't read higher than 15psi.
So that brings me to the acetylene regulator. It has a different connection that the o2, it's LH thread and a different size to boot. MC tanks, the small 14in tall Acy tanks have a different size valve (CGA-200) than B tanks(cga510) I think it was. The B size fitting I think will hook into a full size propane tank. I don't want a bulky ugly huge propane tank sitting in my garage. I like the smaller 14oz bernzo tanks. BUT, again the fittings, the Berzno tanks(disposable) have THEIR own fittings, 1"-20.
So why not just get an adapter? Well, they don't make one. Not direct, you would have to make this round about contraption that would make Rube Goldberg laugh. So out comes the thinking cap. I took the original bernzo valve, cut the hose off, threaded the stem.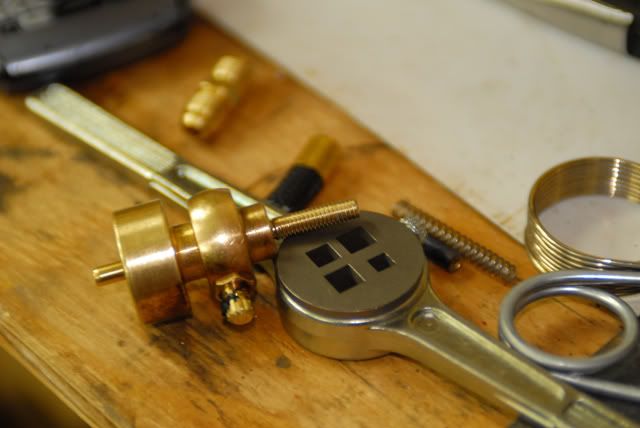 Then take a 1/4 flare union fitting, tapped with a 6mm tap.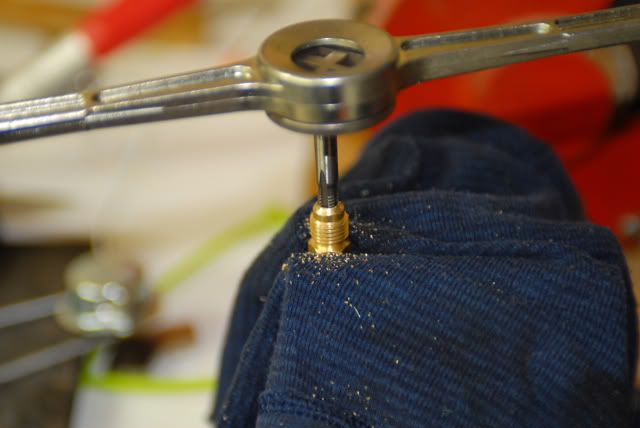 and put the two together. Now a acetylene regulator has a nipple and a nut, the nut is a femal CGA200 thread. BUT, the nipple is simply a 1/4 male flare nut thread. Whatever the abbreviation is for that, it's NOT 1/4npt like I thought. So I had to remove the nipple and nut which was damn hard. Upon doing this I see the spring and piston for the regulator come out. I had to size the spring thru trial and error and drill a hole in the union for the spring to sit in. Put the 1/4 union contraption into the regulator and pray nothing leaked.
It worked.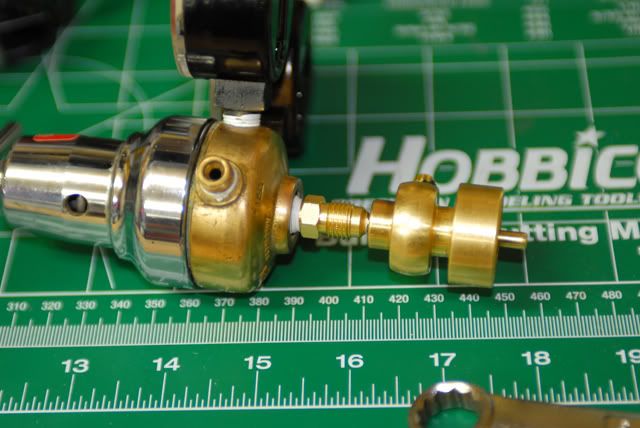 It was a pain in the arse to just have a 14oz propane tank. But it's what I wanted. However it was not a direct route. I had to buy the berzno kit so I could get the propane valve, I could have done that cheaper by buying the Concoa valve for 15bucks. But I didn't realize that till later and if that bottle ever takes a tumble that threaded stem is gonna break off and I will be buying the Concoa unit. I had to buy regulators and a hose set plus an Oxy bottle. Luckily I found a Oxy bottle, 2 sets of regulators, two full size torches, and a hose set for $140 on craigslist. One pair of regulators were heavy duty 2-stage units worth about $350. Btwn the torch, the CL stuff I bought and the Bernzo kit I have about $400 invested. Selling the 2-stage regulators and full size torches should net at least half that cost.
The torch itself is a very nice piece. It's well made, pretty light. The valves are bar none. Very smooth and accurate. The flame is very small, easy to direct heat where you want it.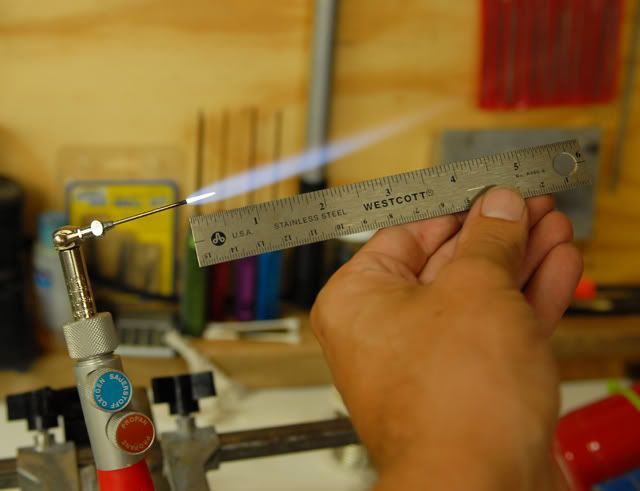 I searched quite a bit before settling on this torch. There are several others, smith, gentec, etc. I didn't care for the layout of the gentec/smith unit. The gentec from Harbor Freight had stick valves that felt lightweight. With the Swisstorch you have thumb control for your flame, you can't do that with the Gentec/smith units.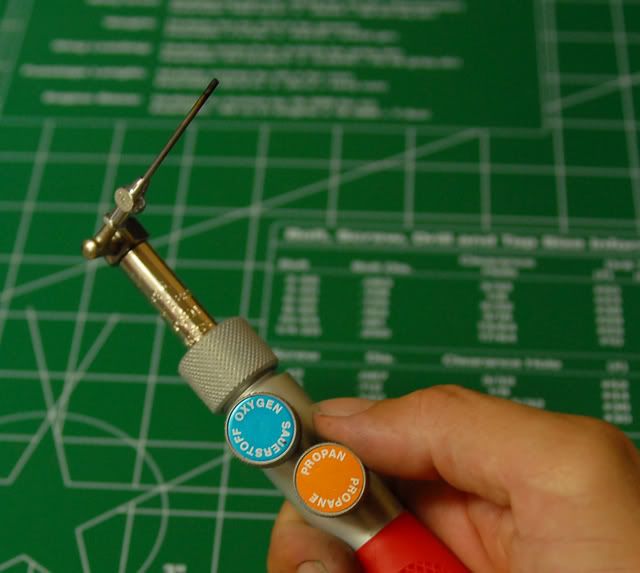 If anyone is looking to get into this style setup, be prepared. It can be done differently for sure. With planning you can do it cheaper and easier than I did. It won't make you King Braze, there are people on here who have done amazing work with much less. I just needed all the help I could get. I also found that using just the standard Mapp torch took a while to heat up and I couldn't pinpoint my flame as easy. I first saw this torch in Stephane's posts and I am glad I did. It's a great piece of gear that is gonna far out last me. Maybe my son will put it to use decades from now.