Saw a lovely 3D printed Unimog in the Traxxas Crawlers section but the guy hasn't released the STL files, and then I saw the Axial UMG which looks great apart from lack of portals. I don't need another truck, already have two TRX-4s and an SCX10 2 so I thought I'd make a body for my Sport. I am not very good at CAD drawing so the rounded features of the 406, which I like the best, were out. I based this on a later more angular version which is easier to draw. This is not a true scale attempt because firstly I am not good enough, this is my first attempt at anything like scale and secondly I wanted the body to fit my sport with no mods to the chassis so that I can switch back. Therefore there are no lights, the later version has them in the bumper whereas the 406 has them in the grille. As it's not scale I might change the grille, which is quite wrong anyway and make it more like a 406. I didn't use any scale measurements, just drew it from eye so even more not scale like. From a distance it looks a bit like a Unimog but it's not a shower, it was designed to be used.
This one is a tester really, I used cheaper PLA which of course will melt in the sun. With a few improvements in mind I'll do another in PETG or ABS. It's a bit of a monster, weighing the same as the defender body at 800g with the spare tyre. The weight is more forward, and lower than the defender body. PETG might be heavier and ABS lighter. I will put it on a bit of diet next time and use thinner panels where I can. Firstly I'm going to use it to see what breaks and where I need to beef up and where to thin down. I took it out today and it held up OK, even with a few roll overs.
I stole a few ideas from the Axial. The front body pins are under the bonnet and at the rear it slots into a bracket fixed to the chassis rails so easy to remove. The ESC is under a hinged panel so easy to access.
I tried to weather it but having never done it before didn't quite work out, it just looks like a really bad paint job
. I undercoated it with red oxide and scraped some paint off to look like wear through, also some mud and dirt. I think I need an airbrush, never tried one before. Everything is attached to the bed so it all lifts off to swap bodies. Once I'm happy with the design I'll release the files on Thingiverse if anyone is interested.
Here are some pics, and a video of me and my daughter getting muddy( the trucks that is).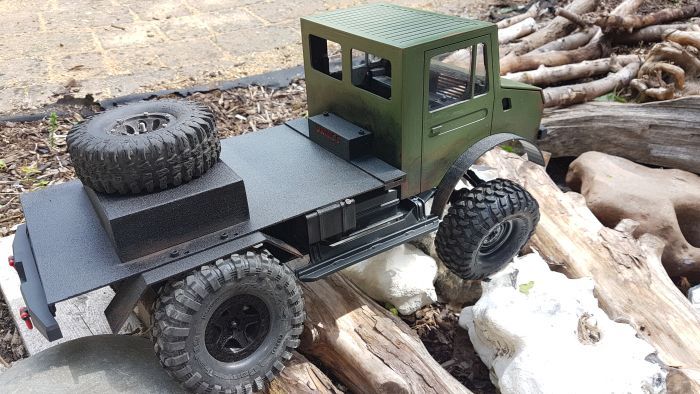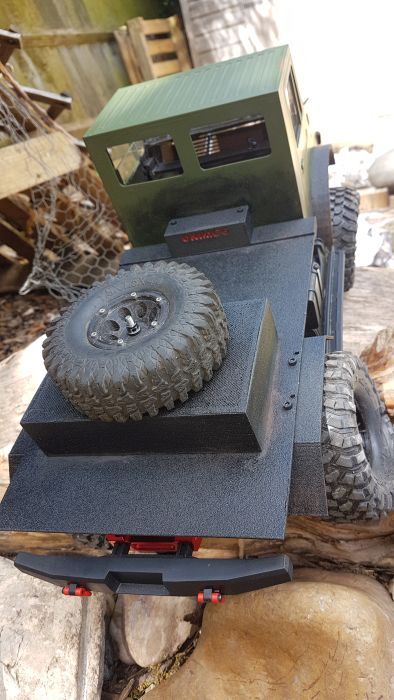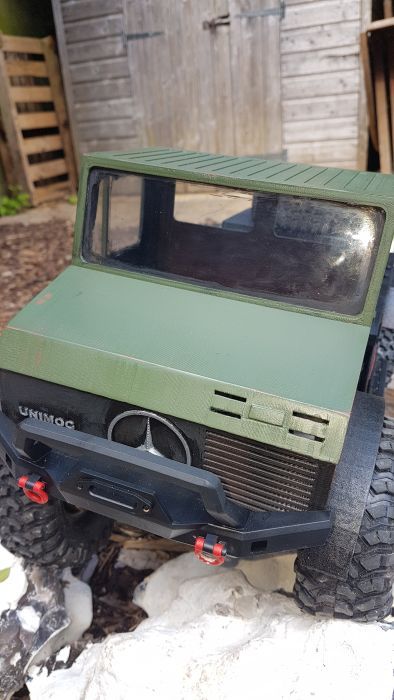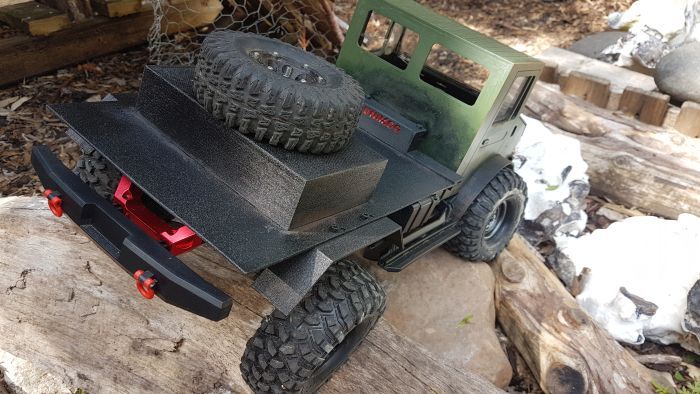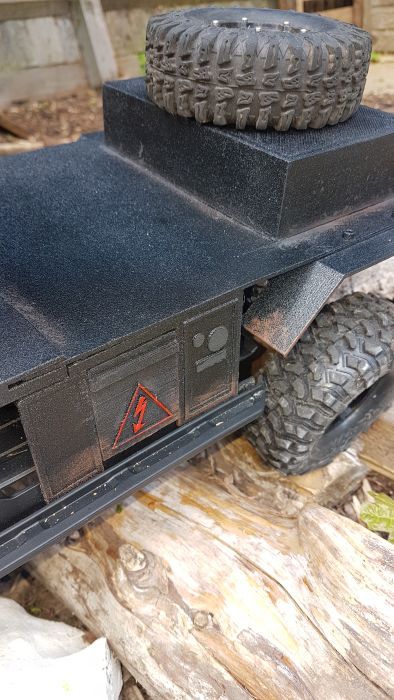 https://www.youtube.com/watch?v=iGQMoPNgnOI
https://youtu.be/cpTWi3Pyz0Q