If you have a TRX-4 Sport with a clicking / ticking transmission and havenít been able to eliminate it with the normal suggestions then this may be helpful. I put a video together showing what causes the issue and how I solved it. I canít say if this will work for 2-speed trans but the same premise could be applied.
My TRX-4 Sport Kit had a clicking sound under a load from day one. I found possible solutions searching the forum and tried them all. I checked driveshaft phasing, transmission front/rear output phasing, replace driveshafts w/ MIP units, & inspected trans gears for debris. None of these eliminated the clicking sound. But when I inspected the trans gears I noticed an issue that led me toward a final solution.
I found the transfer gear on the main shaft had been rubbing the bearing boss of the transmission case. You can see the debris in the bearing pocket in the photo below. For reference the truck is less than a month old and doesnít have tons of hours running, so I know itís not debris from wear or running.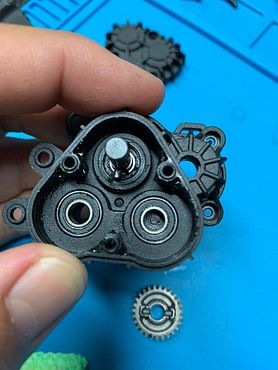 The cause of the issue was due to excessive endplay of the main output shaft. Without going too deep into the details, I found the solution to be shimming the spacer side of the output shaft and also between the inner bearing race and transfer gear pin. If youíre interested in the details, watch my YouTube video as I explain it there.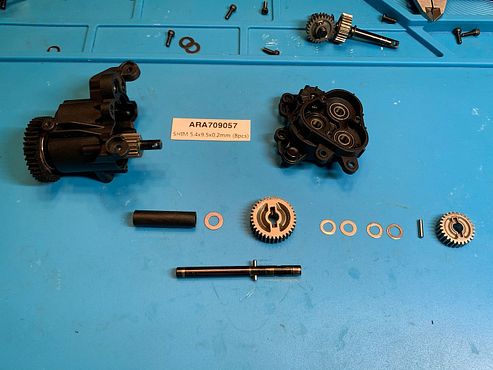 On the output shaft side I used a 5x8x0.2mm Arrma shim (ARA709057) because itís what I had on hand. Note: the OD of the Arrma shim is too big to use under the gear pin on the transfer gear side.
To shim under the transfer gear pin, I used 4X 5x8x0.25mm clutch shims I happened to have around from my old HPI Savage X 4.6.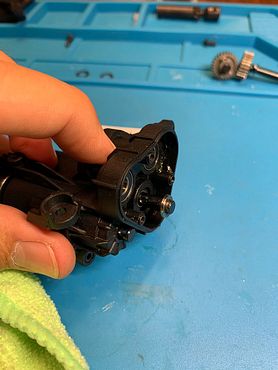 The combination of shimming on both sides reduced the endplay to where the transfer gear no longer contacts the case but still spins freely.
You could use 2x Traxxas PTFE 1985 shims to shim under the transfer gear but I think theyíd be too thick on the output shaft side and result in binding. For those Iíd recommend no thicker than 0.2mm and to check to make sure there is still endplay and youíre not preloading the shaft assembly.
Arrma Shims
Traxxas 1985 PTFE shims
If you picked up this
Yokomo shim set
you could do it all plus have a better selection to fine tune endplay.
I hope this helps out anybody like me thatís tried everything but still had the clicking. Le me know if you have any questions and if you try it out and are successful.