Set you calenders for August/24/2013 and don't miss this event...

We are also going to grill up some hamburgers after the event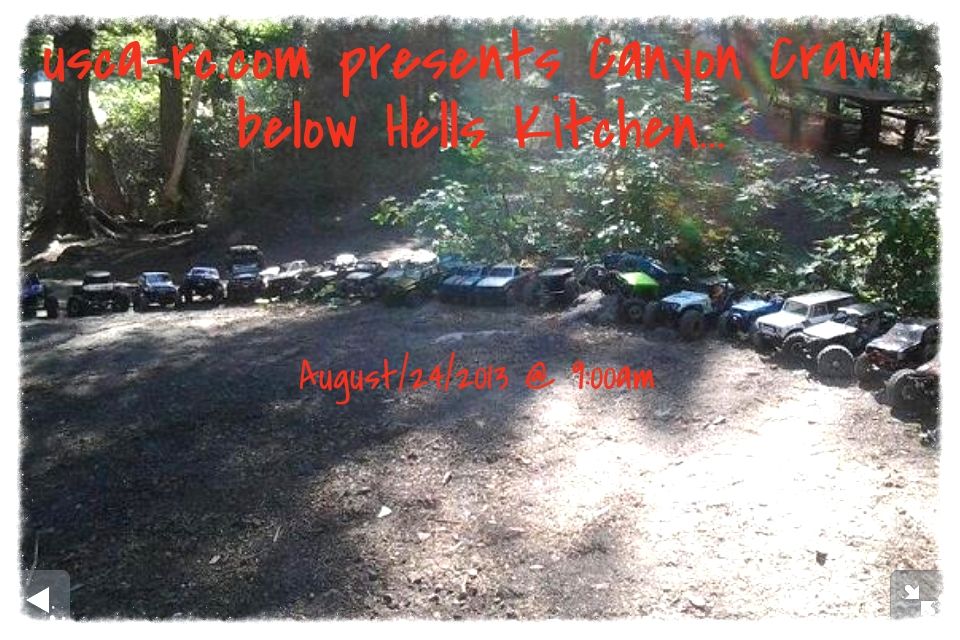 CL 2 Scale Comp
usca-rc.com is proud to present Canyon Crawl below Hell's Kitchen in the beautiful Santaquin Canyon in South Utah County... Please keep in mind we have tons of Black Bears in this country so please be responsible with any food you bring to the comp...
Plan on having a grilled hamburger and a cold drink after the comp

Hopefully we'll have time to do a little fun crawling after so if you have other rigs bring them...
Map link for Santaquin Canyon
Utah Scale Crawlers Alliance • View topic - MAP/Santaquin Canyon
Drivers meeting & tech @ 9:00am sharp...
I need volunteers to help judge...
course 1 WASHRACER_11
course 2 distinctive pd
course 3
Scale points will be counted for this event to help prep you boys for The 2013 Scale Championship.
Here is a link for the 2013 Scale Point tally sheet
Utah Scale Crawlers Alliance • View topic - SORRCA Scale Points Sheet
please have one filled out for tech and drivers meeting @ 9:00am sharp
Please make sure your rig is in spec or you will fall into the open class. This is going to be a technical comp but as always in true usca fashion we will have are open Class... So please fill welcome no matter what you got...
Minimum Scale Points...
Pro's 25 points
Sportsman's 15 points
Open Class 0 points
Here are the SORRCA Scale Comp rules and point set for 2013
2013 SORRCA Scale rules
This will be a Classic style comp, Class 2, 25 point minimum, timed with 10-15 gate courses. We will "BASE" the course time off of the 1st run times

The courses will be tight and technical with 1 or 2 winch points, so wear your thinking cap. If anyone has any bridges or man made obstacles please PM Low Budget and we will see if we can fit them in the courses

Building Tips
* Speed is always good
* Winches are good to have
* Water Proofing is a good idea
* Build them strong and be prepared for crazy side hilling, steep climbs, of camber wicked lines,
dirt, water, aggressive limestone and forest terrain and whatever else we can dig up...
Last years comp @ this location :link:
Utah Scale Crawlers Alliance • View topic - June U.S.C.A. Ultimate Scale Race...
Video from that comp...
USCA ULTIMATE SCALE RACE... - YouTube
Video of location...
Scale RC Crawling Utah - YouTube