I'm a newbie still, and this is my first build thread, so go easy. I have modded some RTR's and built a couple of kits, and generally have been having a great time messing with these little trucks for about a year. When the VS4-10 chassis came out, I bought one right away, with the intention of running TRX-4 axles under it to take advantage of the high-clearance design. I bought a set of takeoff TRX-4 Sport axles, and started accumulating additional parts:
Chassis:
VS4-10 Chassis Kit
VS4-10 Extended Shock Tower Clear Anodized (Front and Rear)
Vanquish Products VS4-10/VFD battery and electronics trays
Incision 90mm scale shocks (with soft springs from Incision Scale Shock Spring Set)
Incision Driveshafts for SCX10-2 RTR and SCX10
Incision SCX10-II 12.3" 1/4 Stainless Steel 10pc Link Kit
Incision TRX-4 Stainless Steel Drag Link and Panhard for VS4-10
TRX-4 Sport Axles (Stock gearing in Front & Underdriven Rear)
SSD TRX-4 Brass Portal Weights (front)
Electronics:
Hobbywing AXE 540 2300KV Brushless motor and ESC Combo
ProTek 370TBL servo
Vanquish Clamping 25T Servo Horn 20mm
Spektrum SR315 receiver
Castle Creations BEC 2.0 Waterproof
Initially, I was going to just run an Axial 3-Gear Style transmission, but then the VFD Transmission kit came out, so I decided to try to give that a try. I viewed the very informative videos that Harley put on on calculating FDR and choosing a Spur/Pinion combo to compensate for the gear reduction of portals. I chose to go with a 50T Spur with 21T pinion based on suggestions from members on RCC.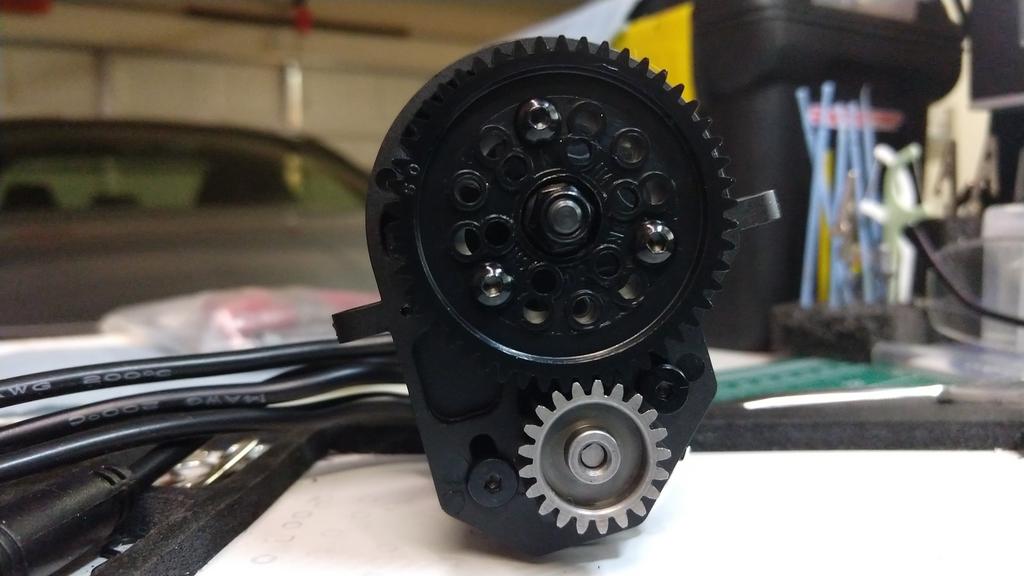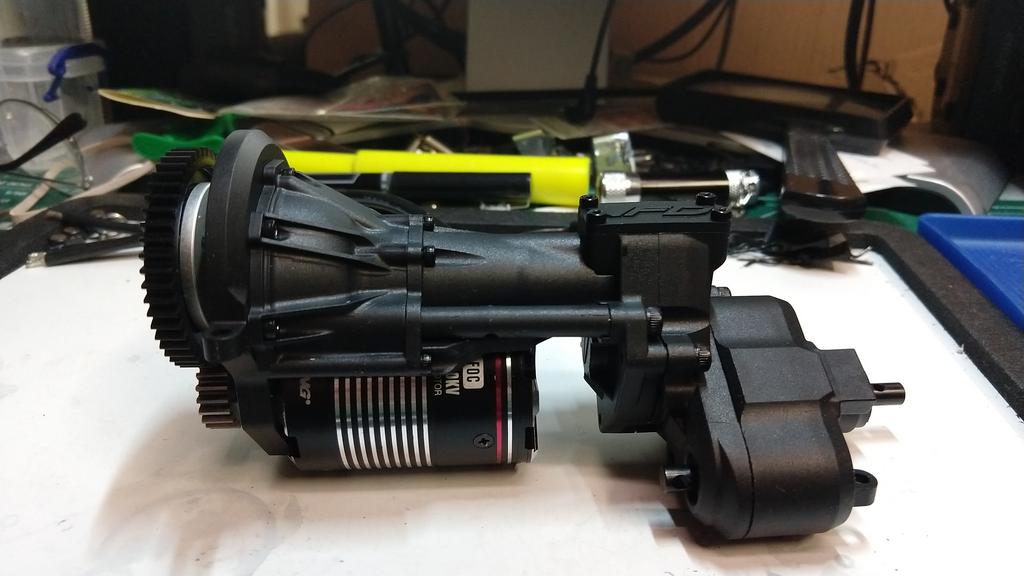 Last night, I started assembling the chassis: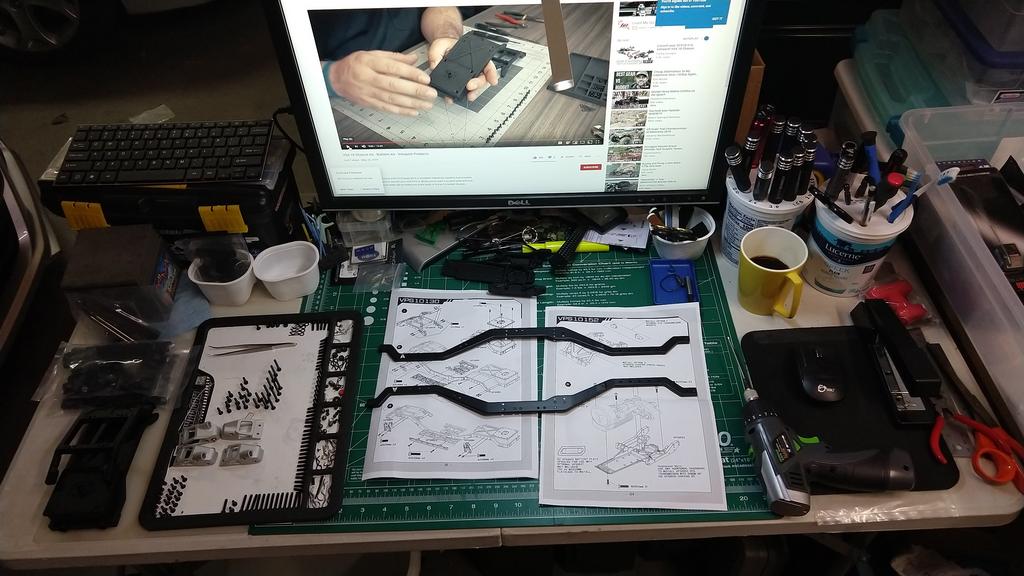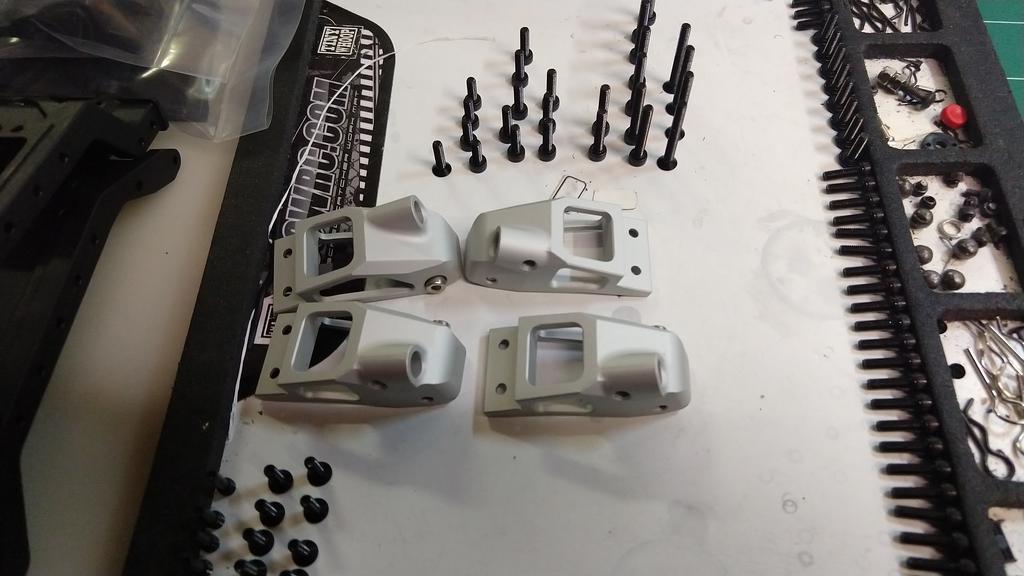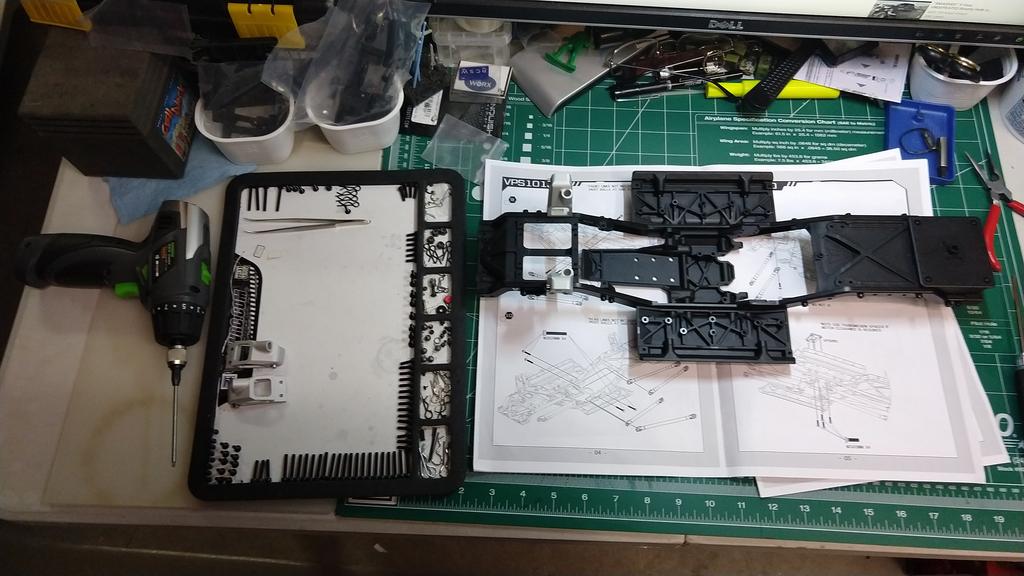 I had a choice to make with regard to the link set to be used. Before the special panhard and drag links to run the TRX-4 axles on a VS4-10 chassis came out, I had previously purchased the Incision TRX-4 Stainless Steel 10pc Link Kit - 12.3in Wheelbase. But when the special panhard and drag links came out, they recommended the following:
Incision TRX-4 Stainless Steel Drag Link and Panhard for VS4-10
This link set is to be used when installing TRX-4 Portal axles into a VS4-10 chassis kit. It is recommended that you use a SCX10-2 12.3 Incision link set in combination with this kit to complete this process. The two links included in this package will replace the drag link and panhard included in that kit.
So I bought a Incision SCX10-II 12.3" 1/4 Stainless Steel 10pc Link Kit to use per the recommendations, and that is what I used to get to this point in the build: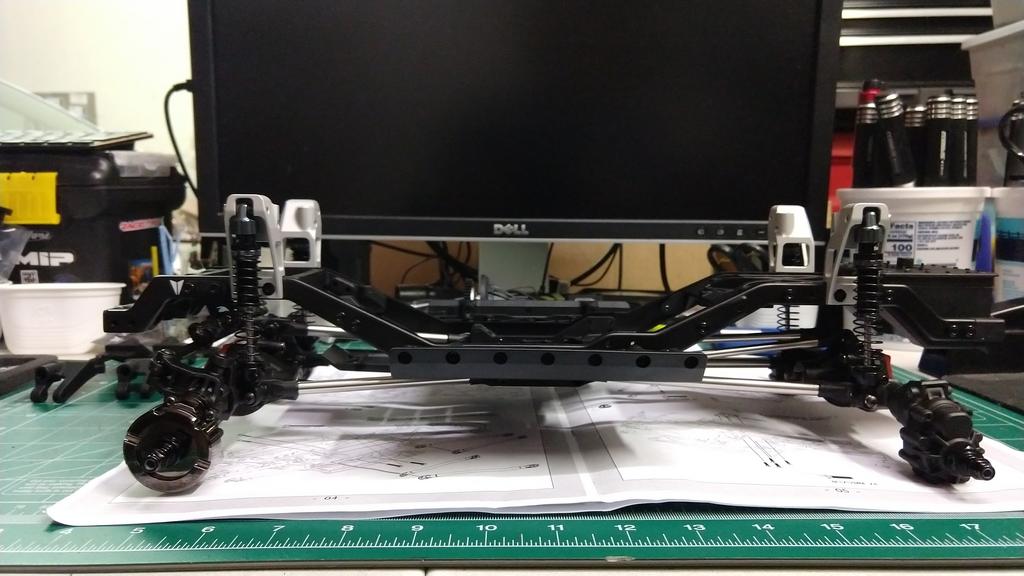 The chassis sits nice and low due to the extended shock towers, but I am not sure I'm supposed to have this much caster, and I am having some clearance issues. The panhard bar is hitting the pumpkin at about halfway through the shocks' travel.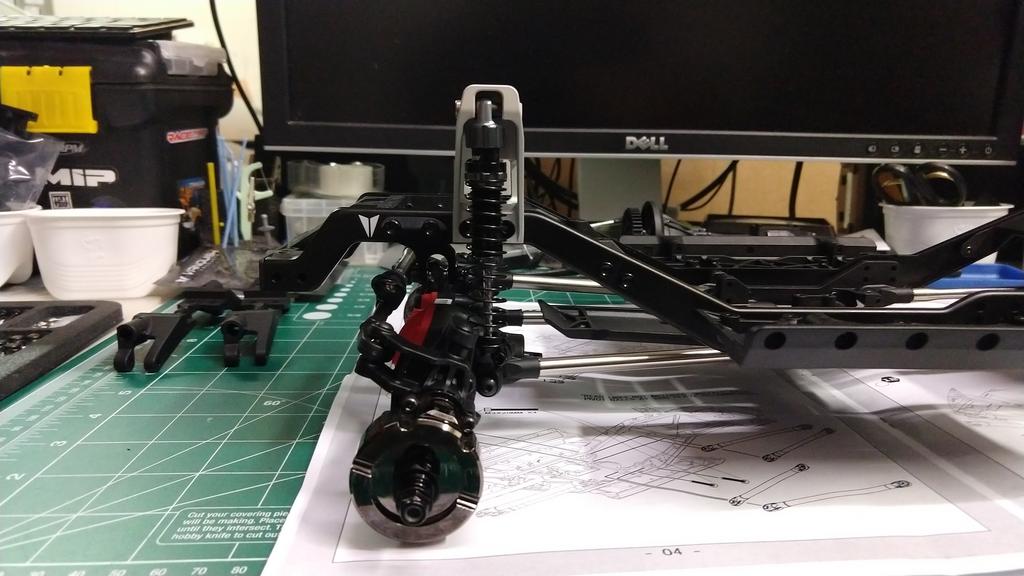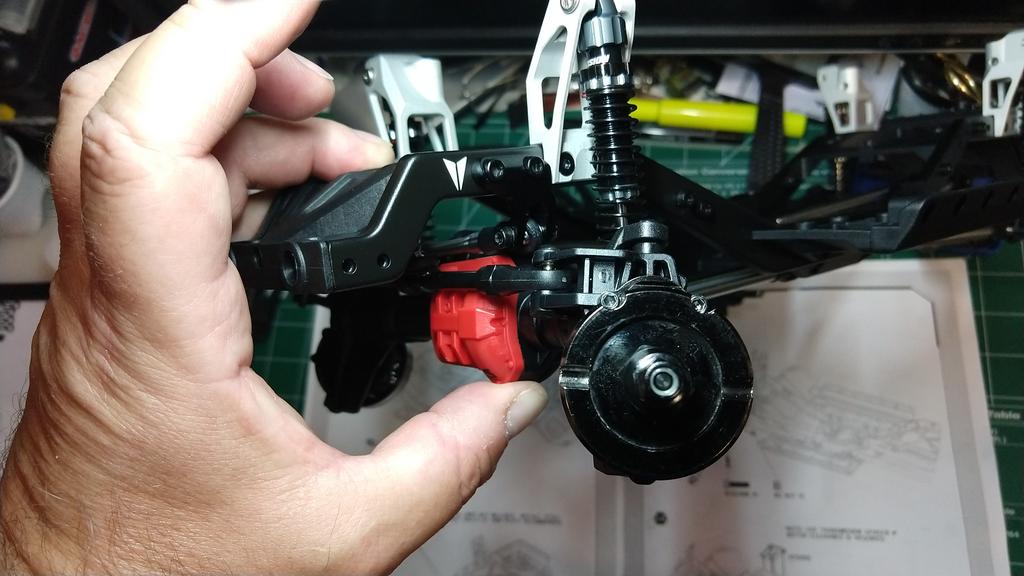 Worse yet, I'm not able to mount the VFD Trans. The front upper link is in the way.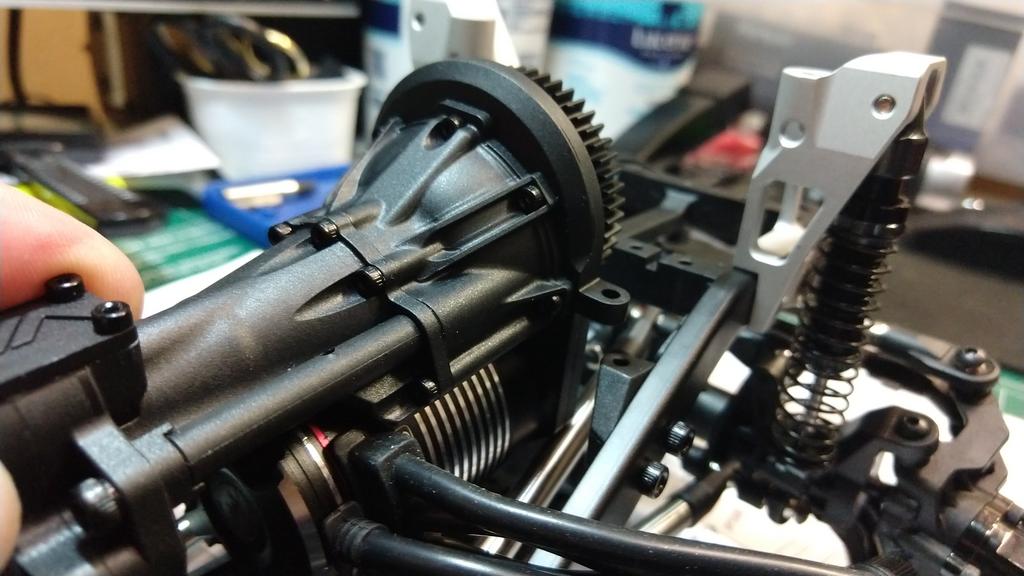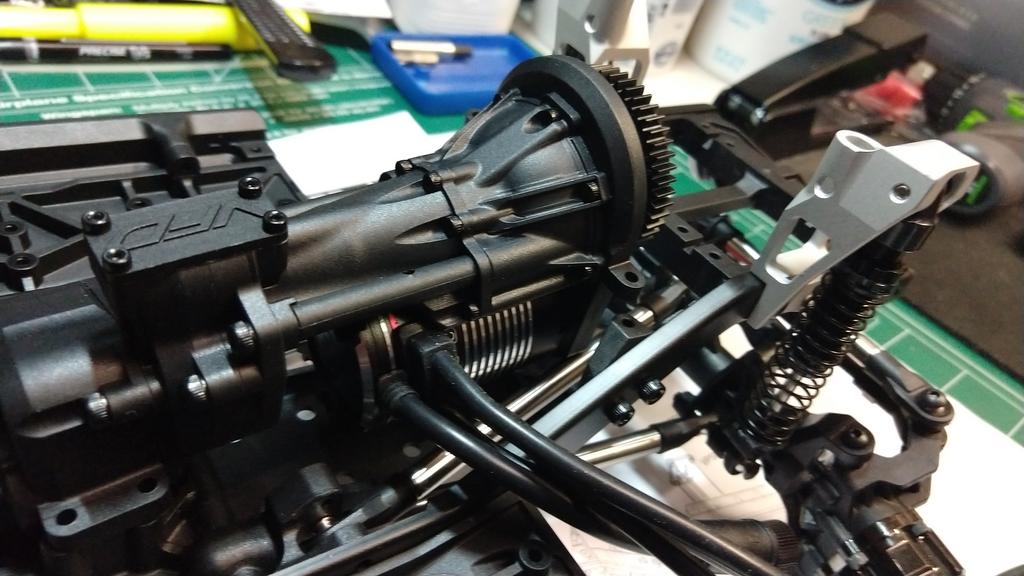 I'm thinking the extended shock towers are the culprit. Are they not designed to work with the VFD trans? If so - that would be a real bummer, but I could switch back to plan A and run a 3-gear trans instead. But I think I'll still need to make some adjustments to the front links to sort out the panhard clearance issue. That caster seems excessive, and I'm guessing the front driveline angle will be poor unless I adjust front link length somewhat to rotate the axle forward a bit.
There's no issue whatsoever in the rear. Clearance is great. Driveline angle looks good.
So that's where I am stuck for now.
Should I just swap back to the stock plastic shock towers to drop the axles down a little? I would hate to increase the ride height, as a main goal of mine was to keep the COG low with the portal axles by using the extended shock towers.
Should I try using the link kit for TRX-4 with 12.3" wheelbase? Are the front link lengths any different in that kit than the one for SCX10-2 12.3" wheelbase?
By the way, there seems to be a lot of play in the upper shock mount. The shocks can slide back and forth about 3-4mm inside the mount. The little plastic balls that go inside the shock caps do not snap in. They are totally loose, and allow the shock cap to slide freely. Maybe that's how it's intended to be.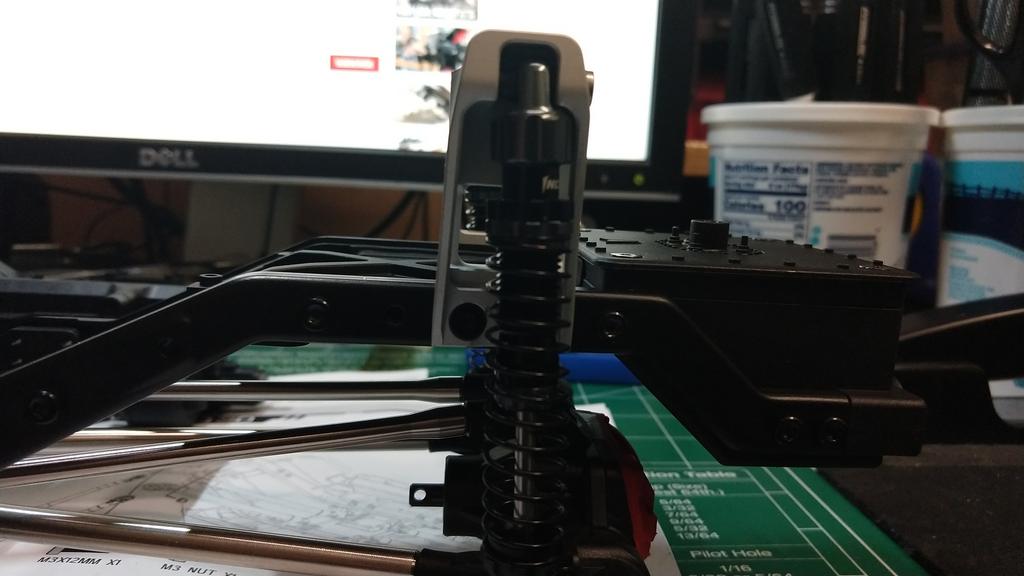 Any suggestions on how best to solve the clearance issues and get the VFD trans to mount up?