Here it is - Our official Release of our first Carbon fiber Wheel!

Krazed Builds Snowflakes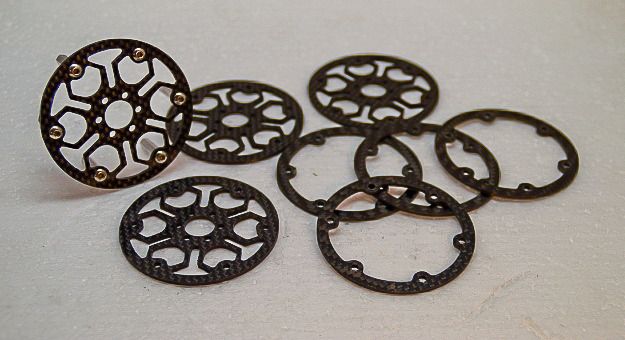 These carry a 2.2mm Carbon Fiber face with a 1.5mm back ring. All holes are matched to take your typical 3mm hardware.
These are a 2 piece wheel designed to be a glue on style, they are not bead locks.
They do not come with hardware. We felt many drivers prefer different widths and have various spacers and screws they would rather use. Doing this allows us to offer wheels to you at a better price to keep that money in your pockets.
Hardware IS available separately though for those of you with out it. The hardware packs will be enough 20mm aluminum hex spacers and 3mm Stainless Screws to assemble all four wheels.
For those wanting a 3 piece setup we will offer extra rings for sale in pairs. When ordering please put in the notes area that you are wanting a 3piece setup. We will be offering a Snowflake face with a different outer diameter so you can remove it to make foam changes with out having to unglue a ring.
Prices:
Priority USPS Shipping to US Continental States Included - International is available, please PM me for shipping cost and options.
2 Piece Snowflake - 4 faces + 4 back rings= $59.99
1 pair (2) of extra rings= $15.99
Hardware 2 piece wheel - *24 aluminum standoffs + *48 3mm Stainless screws= $19.99
*:Important:*
These are a cut on order item and requires a 2 day process time from payment to shipping. When they are ordered and paid for we will cut them and ship with in two days. This is to help keep inventory in control and cost down to you.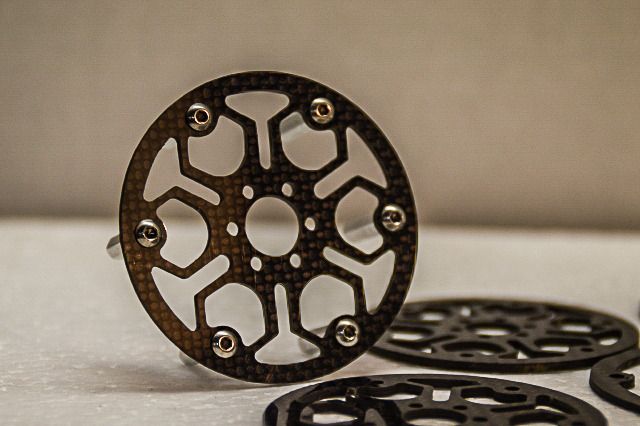 With 20mm Hardware installed]
Any questions please feel free to post or pm me.
Available through here with Paypal -
krazedbuilds@yahoo.com
or
by going to our webstore -
Krazed Builds - Bringing East Coast Design To Reality