longer with this set up,pretty much maxxed out at 18"
rear view,the lower links are bent and are attached at the stock location along with the shocks,really didnt like stock mount,it would rotate n side load the shock shafts
rear upper link is the only one not hooked up right now..little short of stock location as pic'd.i can make new mount or change link lenght to fit .i already have longer and shorter aluminum 4mm rod ends, to eliminate some of the cone/washers that are needed with stock if you want any movement
also thinking about revo and jato rod ends,gotta love those, so many combinations,balls especially!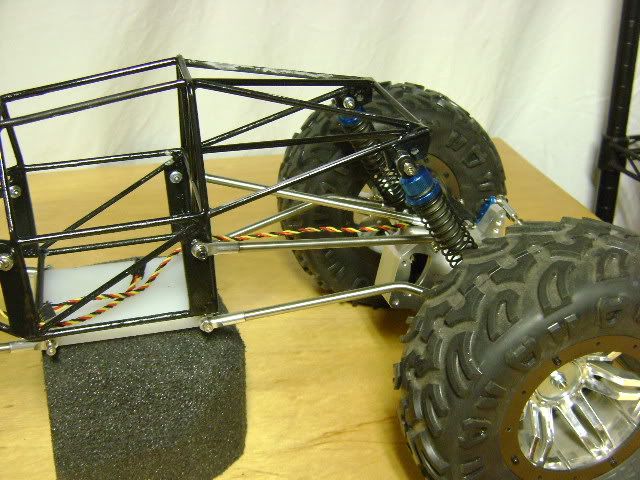 really need front view dont i...im pretty happy with the integy stampede wheel adapters, to 17mm, well 1/2 happy they come in two different widths,the shorter ones give me a track width of 16" with axial B'locks n moab xl's
without spacers just regular 17mm hubs rear width is only 13 3/4"
same tire wheel combo on a revo is almost 18"!!
ive got a set of t/e maxx size on wheels with 0 backspacing im gonna throw on think they are offna race something..bright yellow... be ready