Presents:
Titanium Losi Mini Rock Crawler Pro Bodiless Topper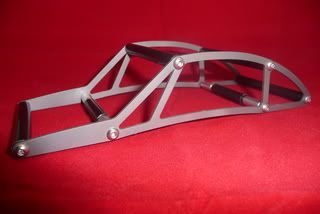 This is a direct bolt-on bodiless cab for your Losi MRC Pro chassis.
So, if you are happy with the factory chassisí link geometry, but want all the benefits of a bodiless setup, then these chassis toppers are for you!
It is made from Titanium, so you know itís strong!
Installation is a breeze; this is truly a bolt-on upgrade!
You simply unbolt your factory body mounts and spreaders and bolt on this Titanium cab, just cut out some body panels and youíre good to go.
This topper meets all minimum requirements for 1.9 bodiless USRCCA rules.
Quantities are limited to stock on hand.
We will not sell anything we donít have ready to ship!
These cab plates, spreaders and all associated hardware are yours for $45, shipped to your door.
Please PM with your request and we will send you our PayPal address for payment.
Orders will be based on a first come, first served basis, so donít wait!
Examples of the topper installed: