so, i have my axial rigs, and love them. but i still have my beloved pti axles from 2006. i've done the duratrax aluminum knuckle mod and the case hardened gears. but the friggin out puts were always a pain in the azz. ya know, the friggin set screw would come loose causing the pin to fall out. so you would loctite the set screw in. which always meant that the next time you tried to take it out, the fawkin thing stripped. well, tonight while working on a scaler using my pti axles i had an idea, and it worked.

this allows you to use wild boar shafts with absolutely no mods to the axle. and its very easy.
heres what ya need.
Axial Pin (AX30166)
Axial Drive Shaft Coupler (AX30784)
Axial Pin Retainer Ring (AX80084)
Wild Boar Shaft (AX80084-5)
M3x8mm Screw (AXA144)
and your PTI axles

Basically the above is the whole assembly for a wild bore shaft MINUS the drive shaft out put. simply place your pin holder in the out put of the pit axle. the PTI pin holder will work just as the Axial pin holder will work. Place the drive shaft coupler over the output. slide the pin thru the out put coupler and the pin holder. Slide the pin retainer over the coupler. then place the drive shaft over the end of the coupler and screw down from the inside of the shaft. bam, your done. no more stupid set screw to strip or come loose.
really there are only two pics needed to explain as its the same as putting an axial drive shaft together. the out put of the PTI axle is the same diameter as the axial drive shaft out put.
the Axial Couple and the output of the PTI axle. (this is the rear axle, but assembly is the same for both)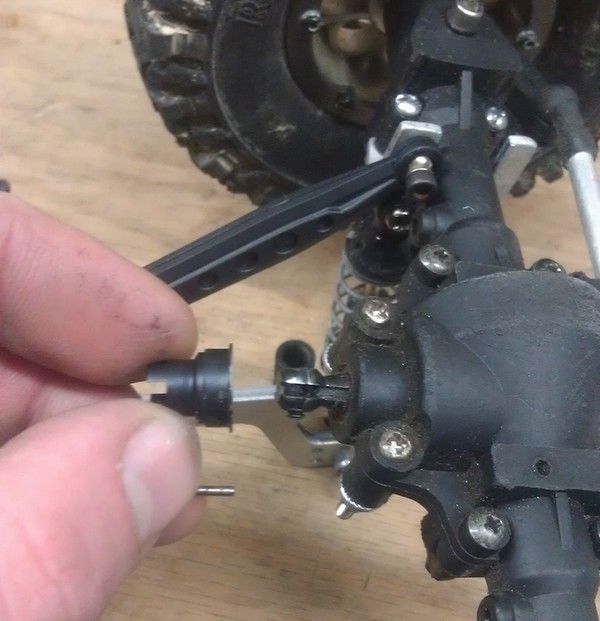 then assemble as described above and you end up with this.
I'm sure not many have held onto their PTI axles. but who knows, maybe someone has. if ya have i hope this helps