I got a Wheely King in a trade from dkchance74. This is how it came to me.
Basically, a stock WK with locked transmission and axles, 4 link up front, Blazer CGR body minus cage, Axial wheels, Proline Hammers, and a bag of spare parts. In that bag of spare parts was a Traxxas XL5 and a Epic 27 turn motor so that is what is in it for now. The spare parts bag also included the 4 link mount for the rear so I ordered a servo and the Revo parts I needed to get the 4 link set up on the rear.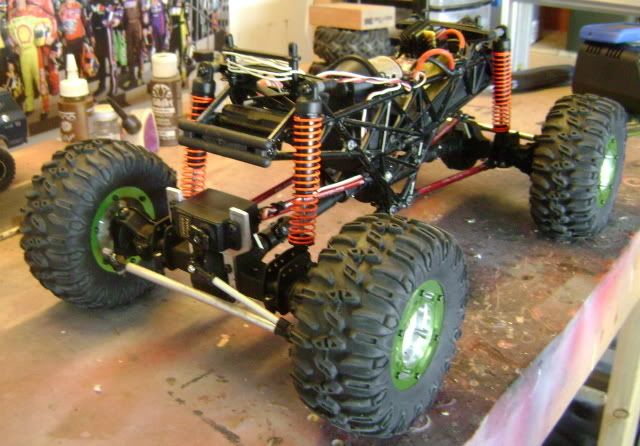 Mandantory flex shot.
dk told me that the body could use a respray. It was a great color but there were a few light spots and an extra set of body post holes. I prefer the 2 tone look on the old Blazers and I have been painting my last few rigs on the outside to get those scale scratches so that is the plan for this one.
I got to work on filling in the extra set of holes and masked off the interior, bumper, and lights. Since I am not going to be using a CGR cage I cut a piece of plastic to fit into the bed area and covered it with some scrap vinyl I had laying around.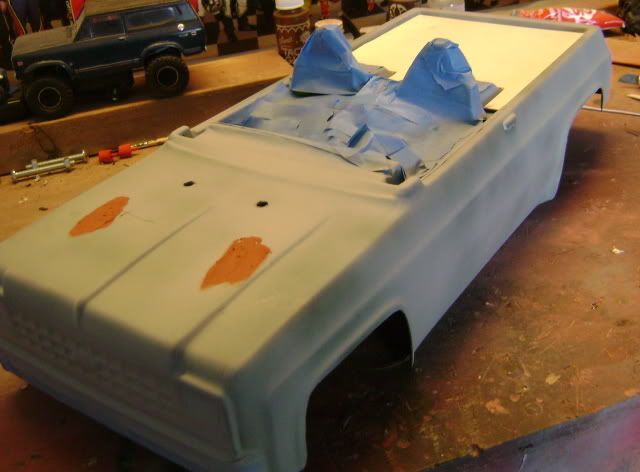 By the end of the day I had the holes filled and a nice blank canvas to start spraying color on. I sprayed the vinyl black and I think it makes a nice bed cover.
While I'm waiting on the coats of paint to dry I plan on flipping the chassis so the battery is up front.