There hasn't been a lot of activity lately in this subforum. That's not a complaint, just an observation. I get why. There are ton of great options in the scale crawler market right now. The SSD Trail King kit is not for everyone, but I think it deserves a little more attention than it's been getting. I thought I'd take a moment to share my thoughts on, and experiences with the TK.
I've got no real brand loyalty when it comes to RC crawlers. I've been fortunate to have an opportunity to assemble kits from Axial, Element, Traxxas, and Vanquish. I've built a few rigs up from bare chassis rails, and have modified some RTR's fairly extensively as well. Certainly each brand or model has their pros and cons, but overall, they've all been a pleasure to build and drive, in their own way. I've really enjoyed having a variety of brands and models, rather than sticking to just one.
If there is one constant across all the rigs in my stable, it would have to be the abundance of SSD upgrade parts, wheels, and accessories which I have installed on every one of them. The number of black and white header cards that have graced my workbench in the short time I've been in this hobby surely must number in the three-digit range. Judging by the reputation SSD has here on RCC, I doubt I'm alone in that regard.
When the SSD Trail King Chassis Kit came out, I was impressed, but I didn't rush out and buy one. I had other builds in progress, including a couple of SCX10II-based rigs with lots of SSD upgrade parts on them. I took me a while to see what the Trail King was all about. Once I actually built one, and got it out on the rocks, it quickly became clear that it wasn't just a modded version of the Axial SCX10II that had inspired it. To me, the Trail King has a character of its own.
Truth be told, my Trail King has become one of my favorite crawlers to drive. To date, I have tended to favor performance/function over scale appearance/realism. I didn't even install the scale V8 motor cover or fuel cell electronics box. But having plenty of fun to drive rigs, I am now starting to care more about visual appeal. I had a few freshly-painted 12.3" WB bodies to use on my Trail King chassis, but after test fitting all of them, I ended up throwing an old and battle-scarred OG SCX10 Honcho body on it. My Trail King doesn't get many second looks from others. It may look like any other SCX10, but it definitely drives differently.
A couple of shots of my "real" SSD Trail King kit: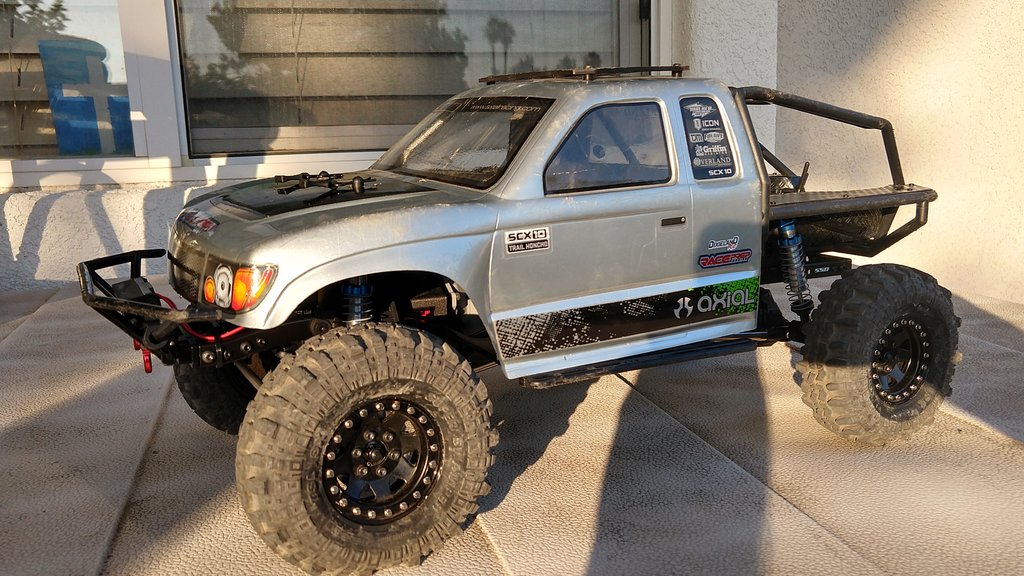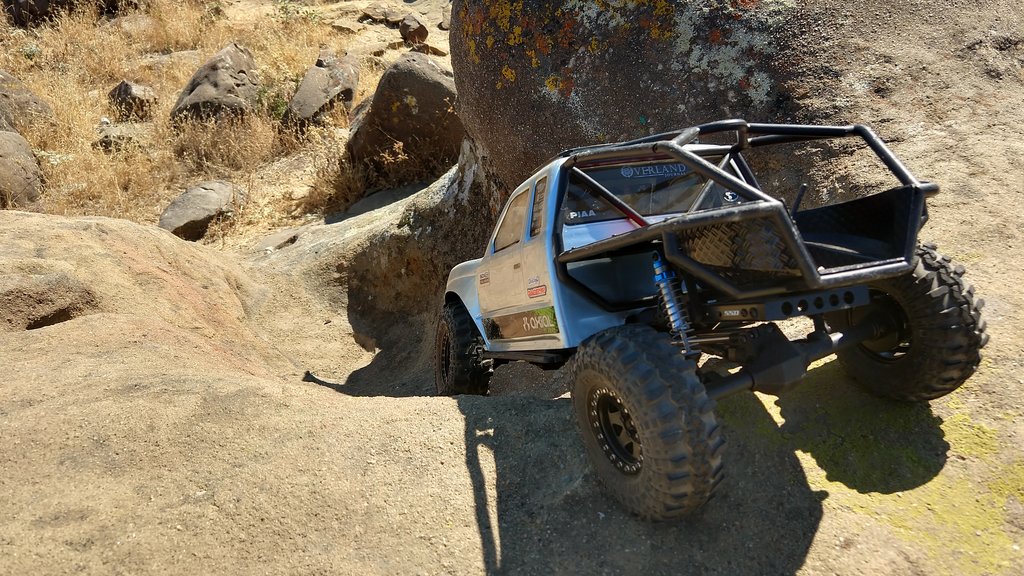 The main performance advantage that the TK ahs is the front-mounted motor and tranny. The closest thing to it would be my VS4-10 "FauxPro", which I assembled from individual VS4-10 parts (VS4-10 chassis kit, VP D44 axles, VFD Trans with OD and Dig). They both perform extremely well, but the Trail King is a bit lighter, and the frame has a little more flex in it – which somehow, I actually like. My Trail King seems to undulate more over obstacles than bash over them like my VS4-10. Could all just be in my mind…but it just feels good.
I liked the performance of the Trail King so much, when SSD started releasing some of the Trail King-specific parts separately, I began purchasing them for a future build. I got the scale transmission & mount set, offset front axle case & universals, C-Hubs, rear axles tubes, slider set, aluminum front bumper, and 78mm front upper link. There are still a few TK-specific parts that have not been released separately, including the servo mount, battery tray brace, and battery tray itself.
I had a certain TK build in mind, and probably could have easily done it without the TK battery brace and tray, but I really needed the servo mount. I had played around with their offset front axle on another SCX10II based rig, and the other aftermarket front servo mounts move the servo a little too far forward. It throws the geometry off a little, and the steering tie bar gets stuck on servo horn under full compression.
Not the best shot, but this is my SCX10-II with SSD offset portal front axles. I used one of those cheap aluminum front servo mounts on it. No bueno.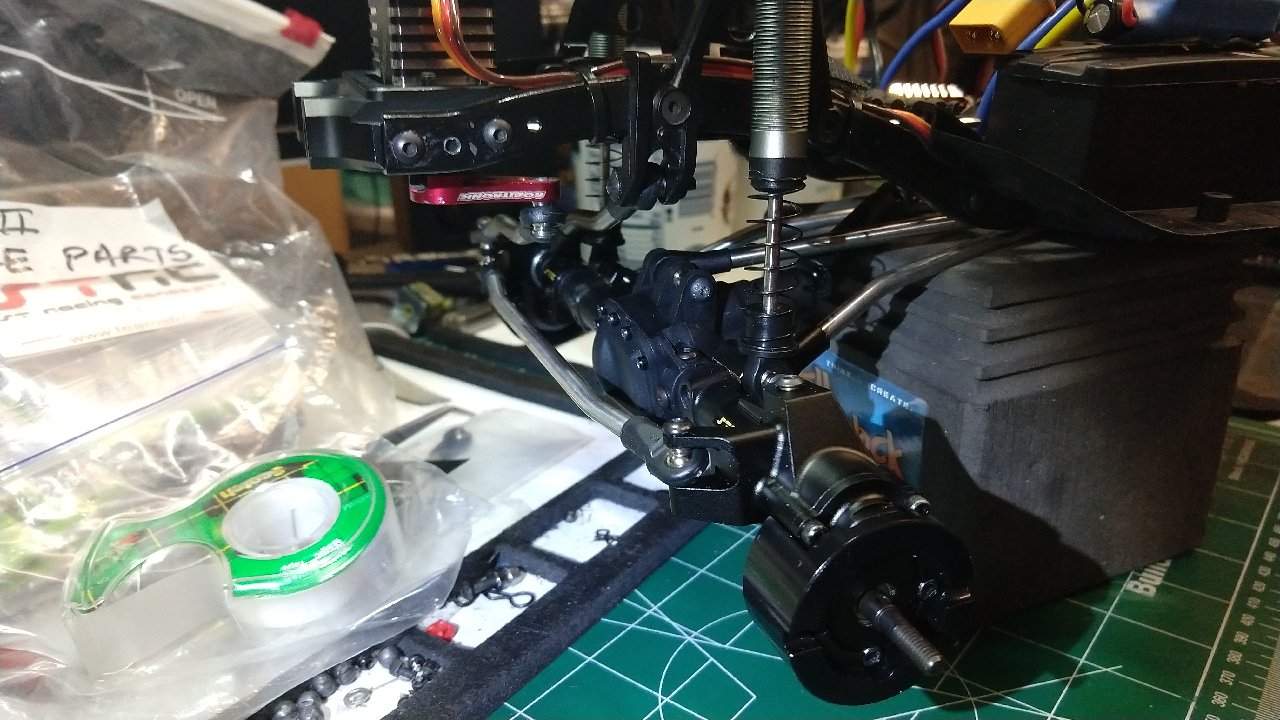 I'm sure there are workarounds for this issue, but I really just wanted the genuine TK servo mount – which I know just plain works with my existing steering links and panhard bar. But to date, SSD has not yet released the TK servo mount.
That's where the RCC community came in to help me. I had been following
Timmah's
two amazing TK-based builds here on RCC, and noted he was not using the stock TK servo mount on one of his builds. I PM'd him, and he was willing to part with it. I just want to thank him again for that – totally awesome guy to deal with! He also hooked me up with the battery bracket too.
With those last items in hand, I was ready to start my new TK build. I had hoped to use a Pro-Line Gladiator body on this build, but I changed directions once I saw how narrow the body was. The SSD TK axles just stuck out way too far, and didn't look right. So, the Gladiator body went on another SCX10II rig with narrowed AR44's from Beef Tubes.
I posted about this in Topher's thread:
An improved proline gladiator body? Or maybe just longer...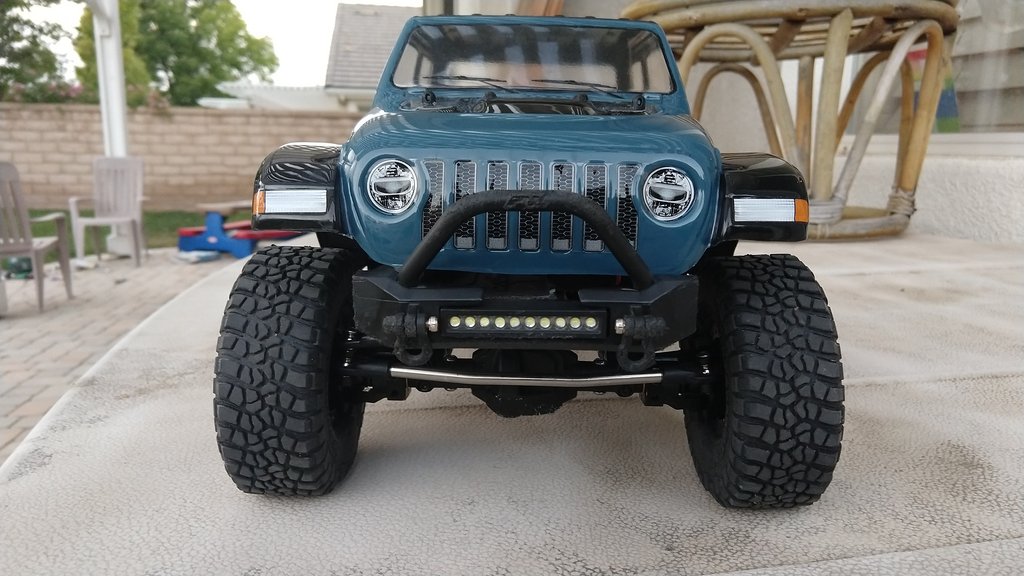 My first crawler was an ECX Barrage. It was a great rig to learn on, and it exposed me to the world of short-wheelbase rigs. Short WB rigs admittedly aren't amazing performers, but they have their charm. I decided I wanted to build an 11.4" WB Trail King. As for the body, I found a very nicely-painted and unused Pro-Line 2009 Jeep Wrangler JK 2 Door body right here in the RCC Classifieds.
58_Willys did a fantastic job on that body – far better than I could have done: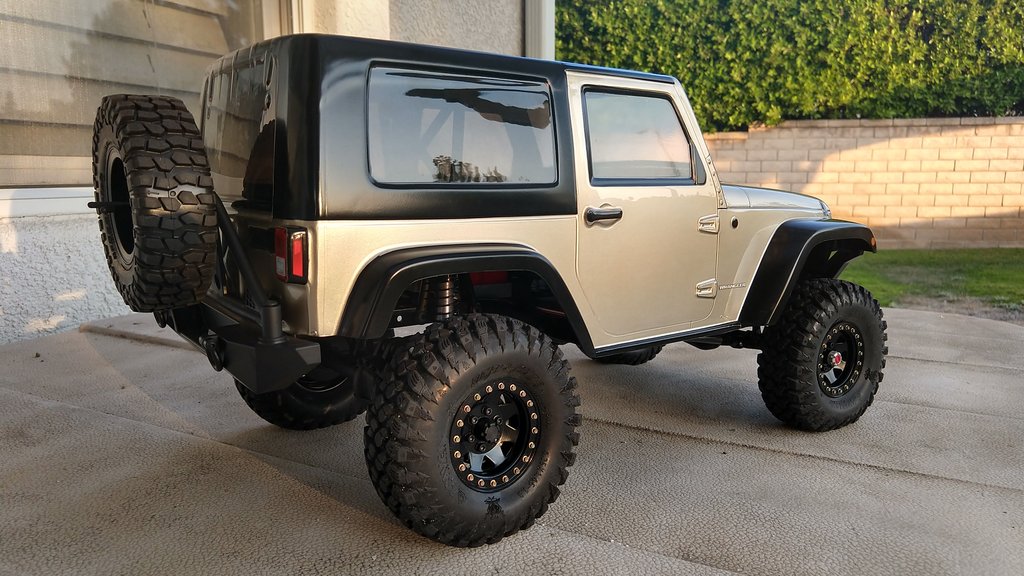 I'm not a big fan of the 4-door Jeeps. My Dad had a CJ-5 when I was a kid, and he would take me out mudbogging in it all the time. So when I think of a Jeep, it has two doors. I wasn't even aware that Pro-Line still made the 2009 JK Wrangler body, but I guess they still do. Though Pro-Line lists the 2009 Wrangler JK body for an 11.8" wheelbase. As others have found out, it actually works better with an 11.4" wheelbase.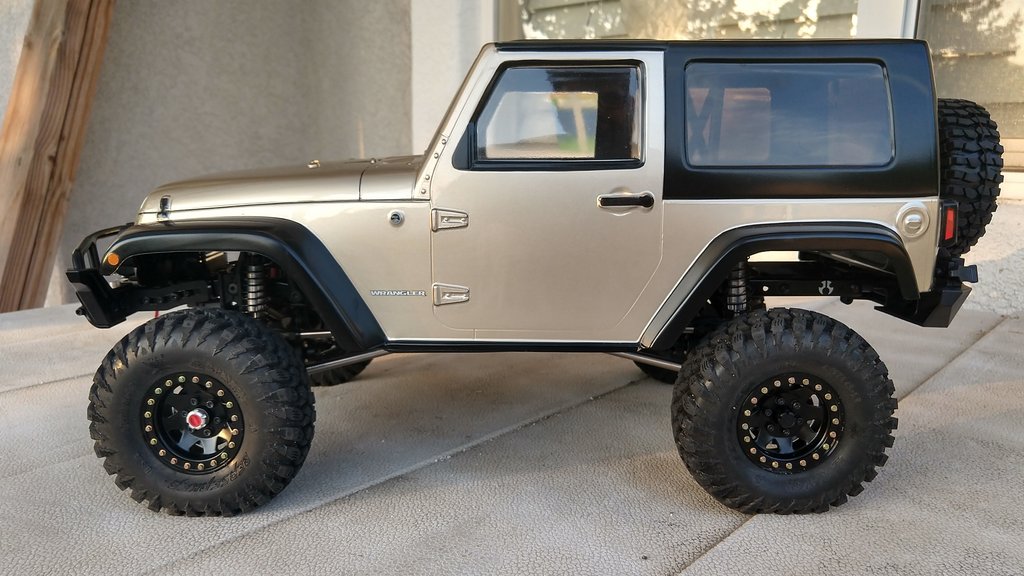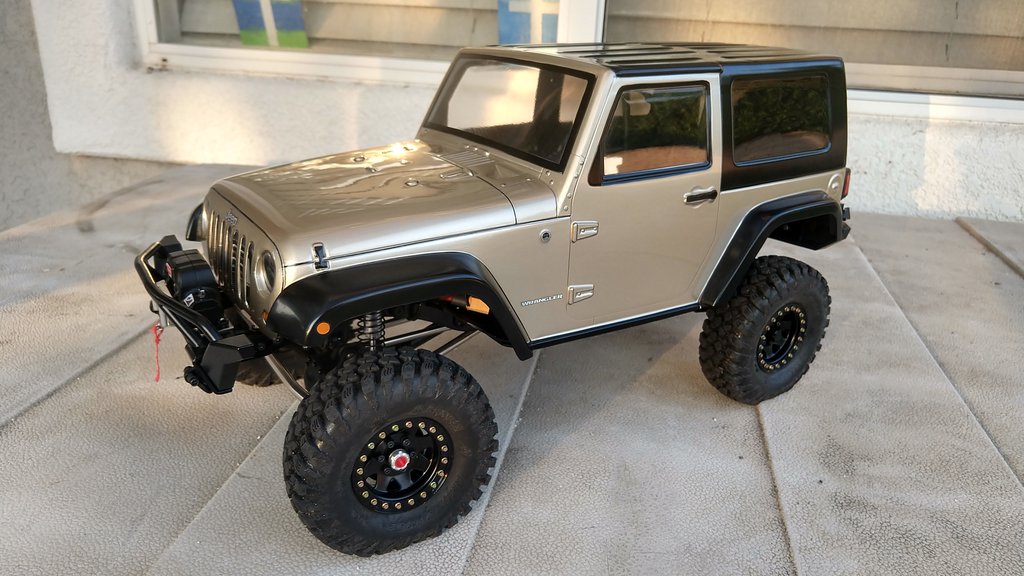 I had a new/takeoff SCX10II slider chassis in my inventory that I'd purchased on eBay, but I only used the rails, shock towers, and rear chassis brace. Assembly of the chassis went smoothly. I used a 11.4" link set from Club5 racing. They are very stout links. The SSD 78mm front upper link needed some slight adjustment in the form of longer M3 rod ends to get the right pinion angle. Conveniently, I had some left over from my other TK kit.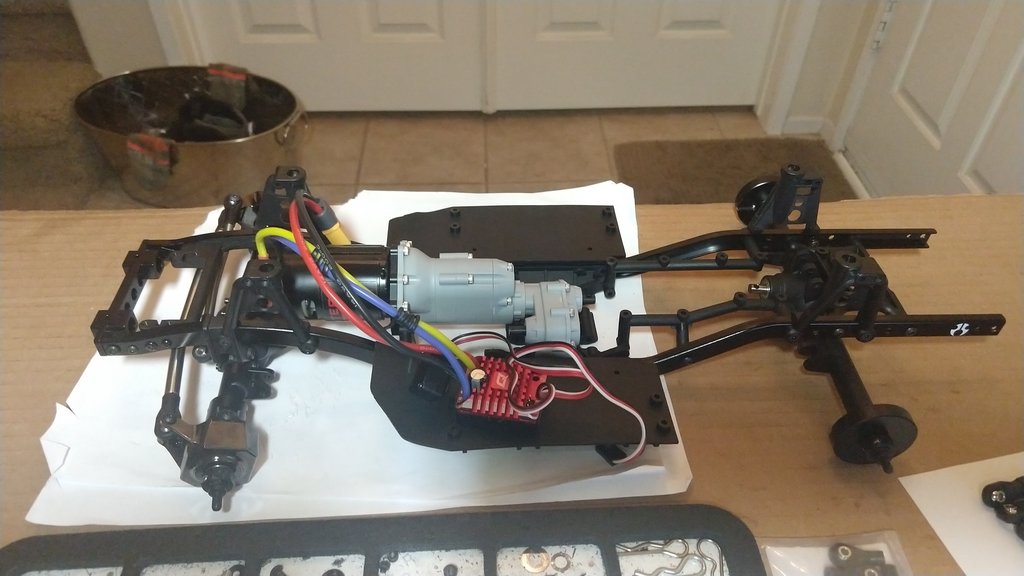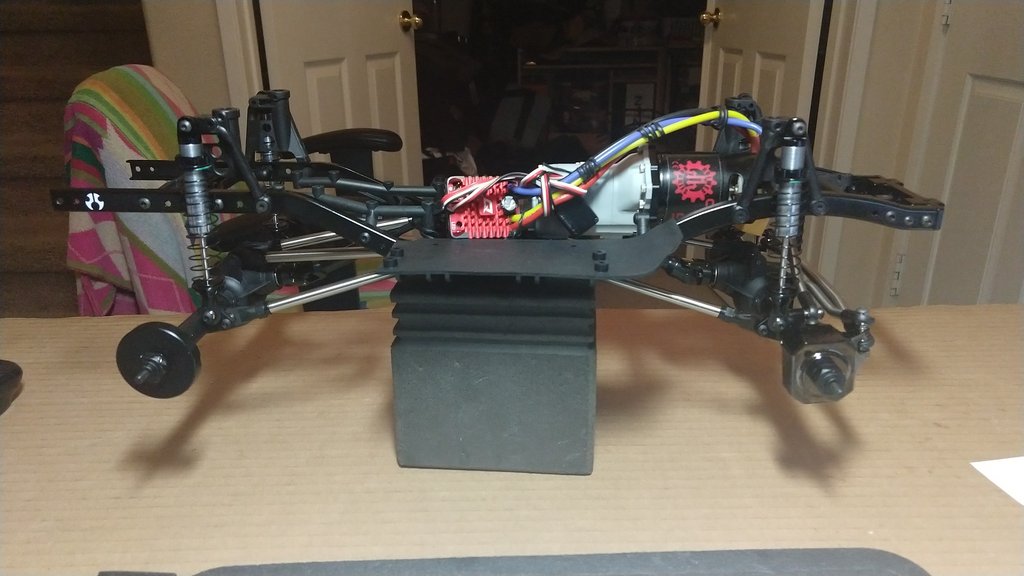 As per usual, I mostly SSD parts: TK Trans, skid, sliders, side trays, & bumper mounts, and SSD shocks, brass knuckles, rear axle weights, overdrive gears, Steel Wheels, wheel hubs with brake rotors, and scale wheel hubs. I even used the fuel cell electronics box from my other TK kit. I really tried to use SSD driveshafts on this build too. I bought every variety they offer - the long, short, and RR10 versions. The front driveshaft used in the TK kit is apparently unique. The female end is about 4mm shorter than any of the other driveshafts they sell separately, and it was causing a little binding up front. After trying all the available SSD driveshafts, I ended up using a set of Incision Driveshafts.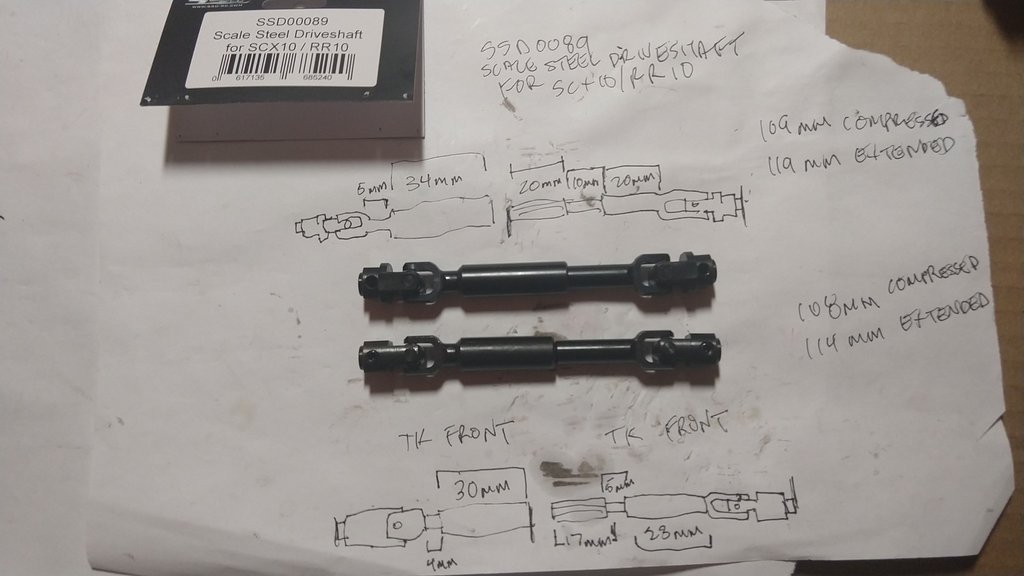 Since SSD has not released the TK battery tray yet, I just made a simple battery tray out of Styrene sheets.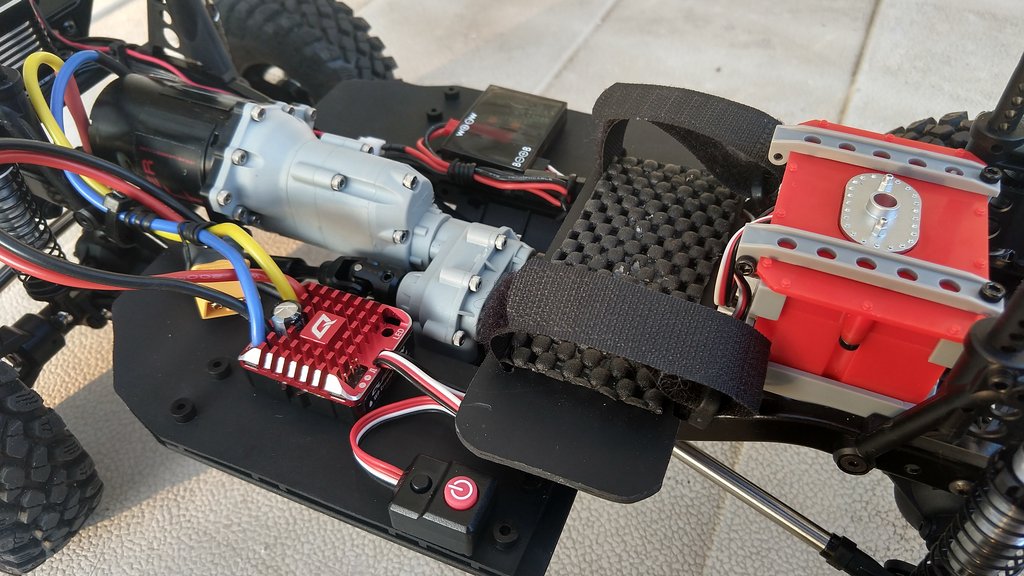 The rest of the parts used include a RC4WD Rampage Recovery front bumper, Warn 9.5cti winch and wired controller, with an Axial Poison Spyder JK Rock Brawler rear bumper. First time I've ever mounted a spare tire on a crawler. I will probably run it without the spare. Tires are Pitbull Braven Berserker 1.9's with Crawler Innovations Lil Nova 4.25" two-stage foams in Soft (Front and Rear).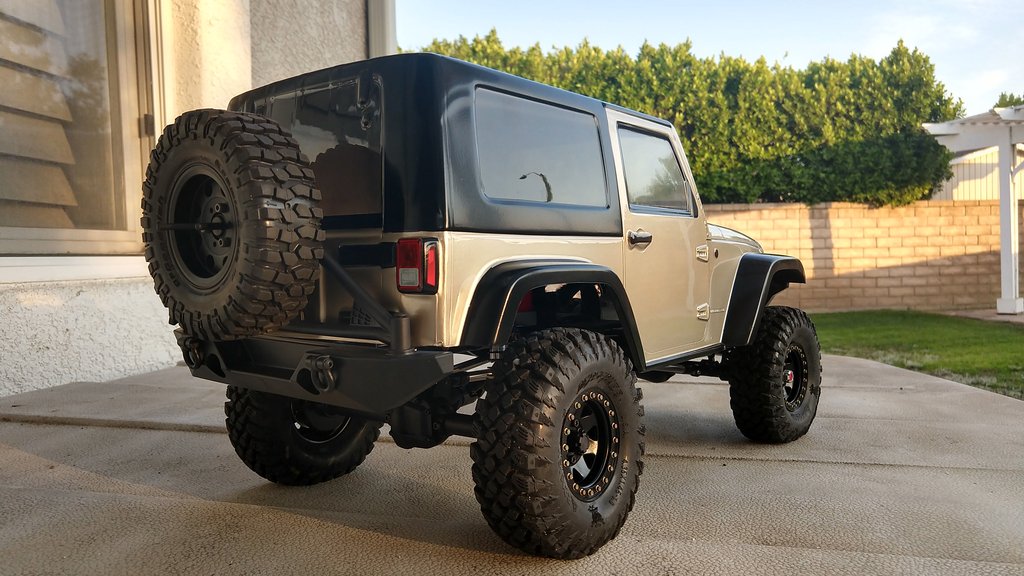 For electronics I went with a Holmes Hobbies Crawlmaster Sport 16T motor, Hobbywing 1080 ESC, and ProTek 370TBL Servo. I run Spektrum radios and receivers.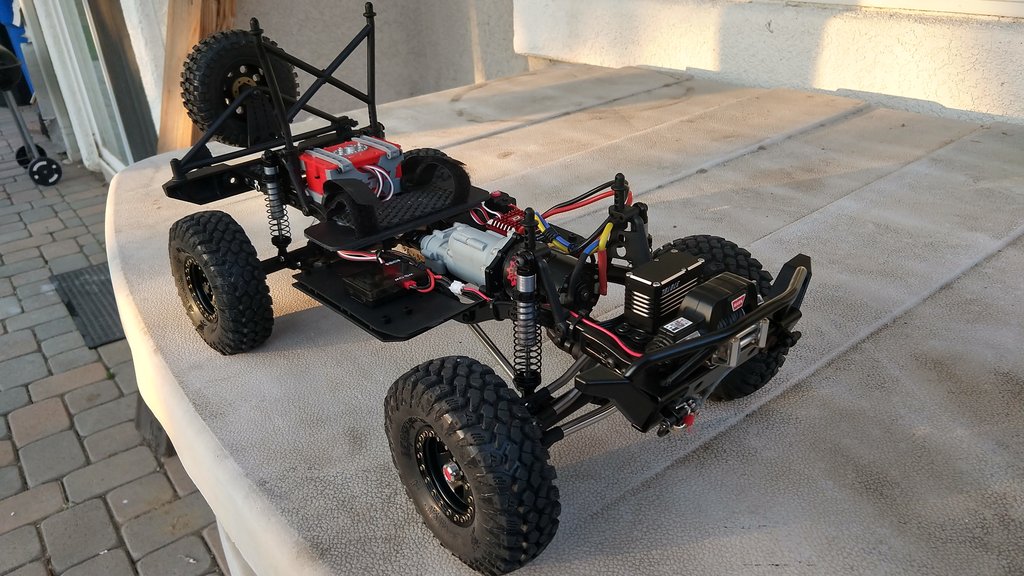 I realize none of this is ground-breaking, and this isn't a concours winner by any means - but I'm pretty pleased with how this rig turned out. It's not quite done yet. I'd like to add lights and inner fenders, and maybe find a way to lower the body just a little more. I haven't mounted it yet. It looks so clean without body post holes, I hate to mess that up. I'm thinking of trying magnets for the first time.
It's been extremely hot here for the last week or so, so I haven't been out crawling. But when it cools down, it will be time to get this rig out on the rocks and see what this "TK JK" can do. I had a lot of fun building it, and thanks to all the RCC'ers who have posted helpful info. I really appreciate having this resource, and hope to make my own small contributions to it that may help the next guy or gal.