I'm getting ready to fab up some links for my SCX10, so while I'm waiting on my Traxxas rod ends to show up, I went shopping around and picked up the allthread, and then proceeded to get some steel brake line to sleeve over it. I know that the bare steel stuff use to be all over the place, but now it seems like every place has this ugly brown coated stuff, I assume to make it more weather resistant and not rust out under a vehicle.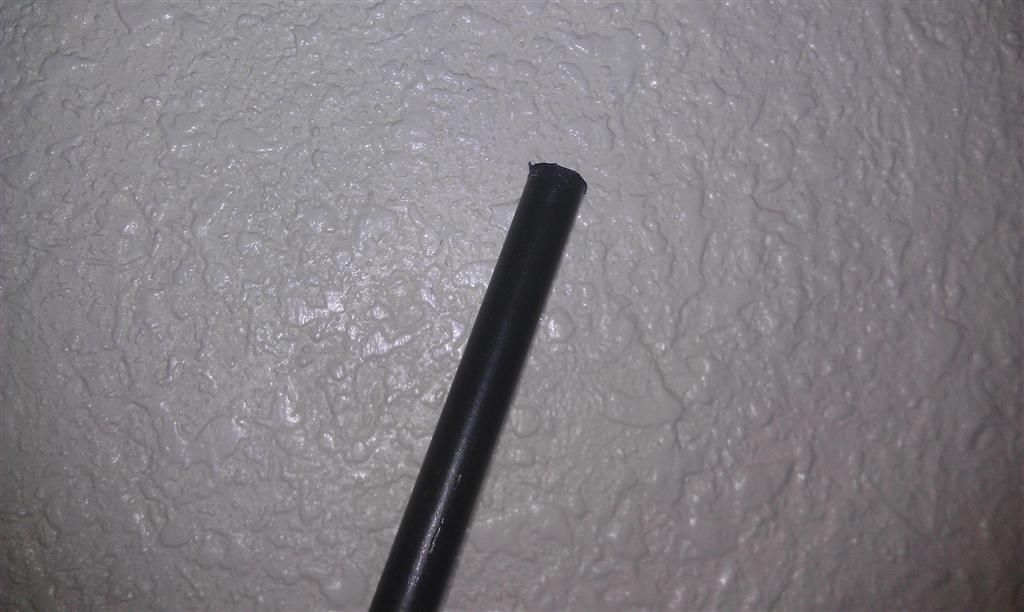 Which is fine when it's under a real car or truck and you're never going to see it. But I don't want 10 links of that hideous stuff on my crawler... I stopped at Advance Auto Parts, Auto Zone, and O'reily's, and they ALL only have this coated stuff. So I figured I'd go ahead and get it, build the links, and if I didn't like the way they looked, I'd undergo the long and tedious task of hand sanding every link until all that coating comes off...
Well after getting home, I had a sudden idea on how to sand them a little faster, and possibly make them look even better than if I would have just bought some bare line. Using my Dremel!
Unscrew the cap/nut and remove the bit holder, so all you're left with is the threaded output.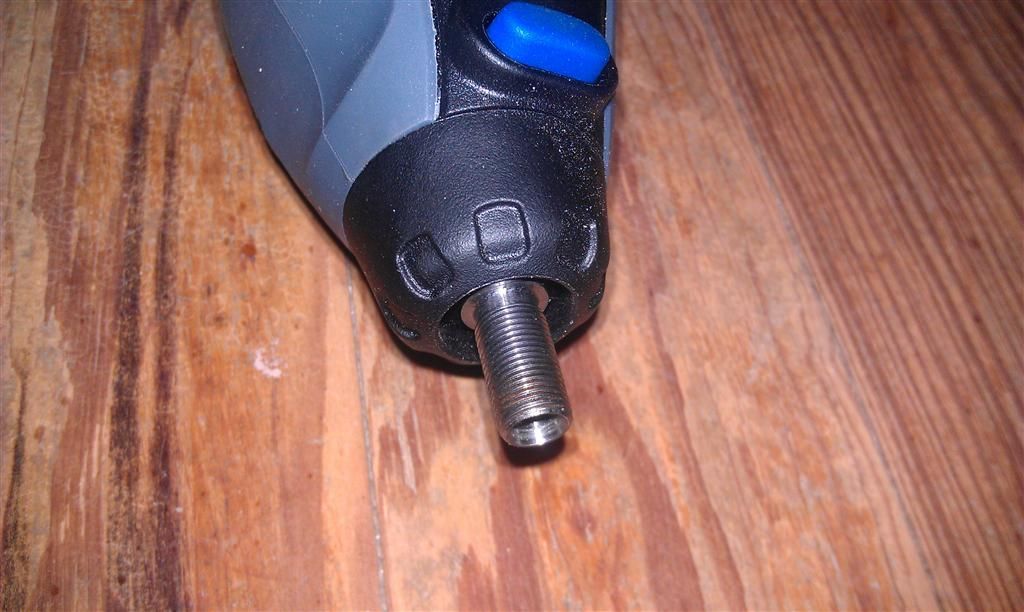 Find a piece of rubber fuel line that fits snugly on the brake line and the threaded end of the Dremel's output. Cut a small section off (about 1 1/2 to 2 inches or so) and slide it onto the Dremel's threaded output.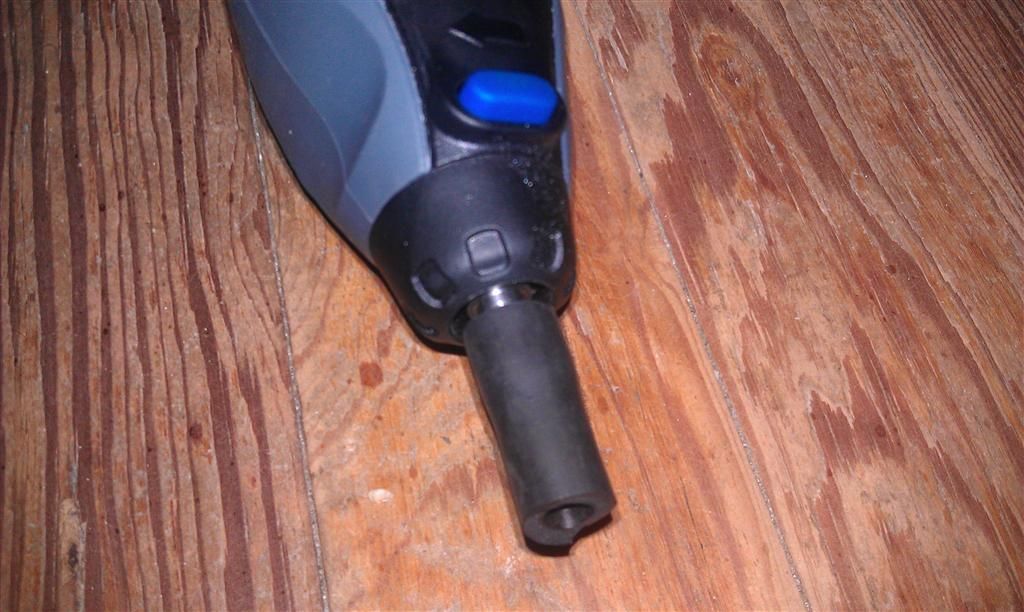 Then just take your coated brake line and pop it into other side of the fuel line.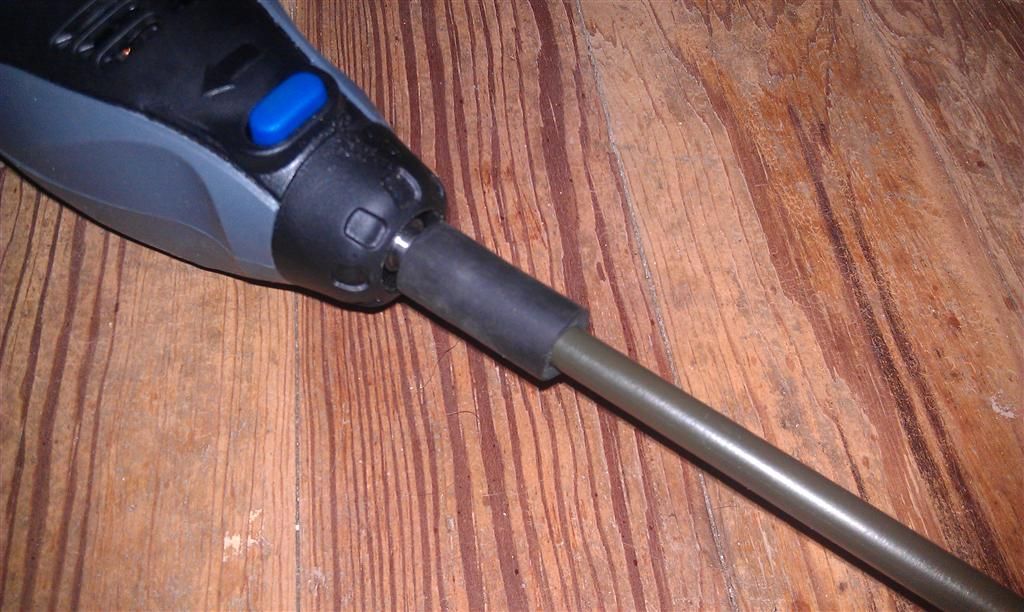 Now grab some sand paper. I used two different grits; 100 grit to get all the coating off, and then 2000 grit to finish it off and give it almost a brushed aluminum look.
Rip off an end of the sand paper, fold it over once to give it a little thickness, loop it over the brake line so there's about 270 degrees of contact area between the sand paper and the brake line, then turn the Dremel on SLOWLY, only to about half speed, and work you're way up and down the brake line.
After about 5 minutes with a 3 foot long line, and both stages of sand paper, the entire line went from ugly dull brown, to a near brushed aluminum look! MUCH faster and easier than hand sanding the entire length.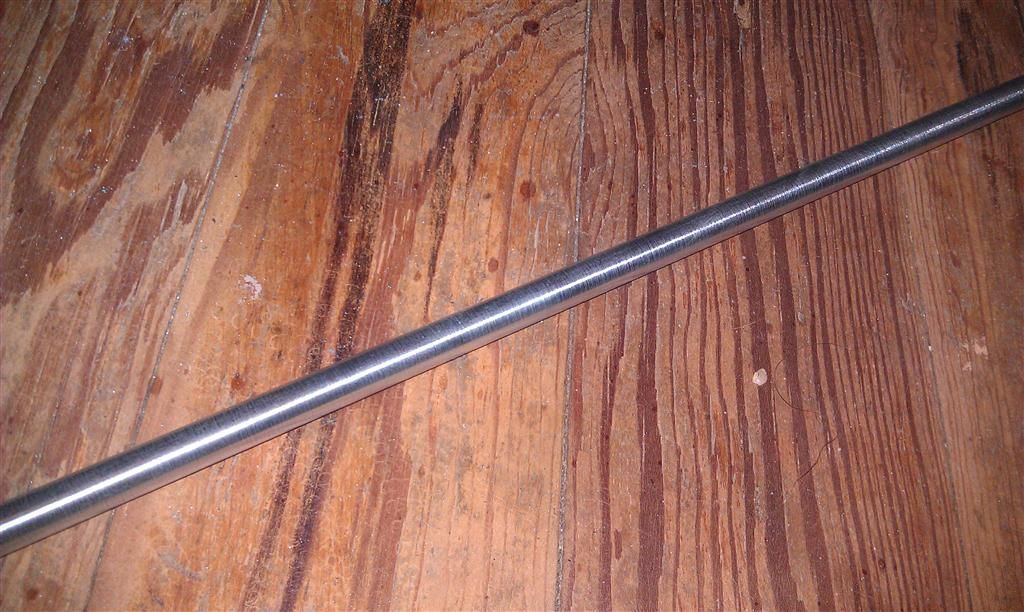 Quick test, just using some stock SCX10 end links.
Although I'm not going to bother, this could probably be taken even further buy spraying clear coat over the line to keep it from rusting (since it is bare steel now), or even going as far as actually polishing the line up to a mirror finish.
-- TIPS --
*Try not to stay in one spot for too long when sanding; you'll gouge the line more than likely, and the sand paper will get VERY hot and a little hard to hold onto.
*The shorter the piece of brake line you do at a time, the easier it will be to handle.
*DO NOT sand all the way down to the Dremel. Sand about the outer most 1/2 to 2/3's of the line, turn the Dremel off, flip the line around, then do what's left. If you go too far down, bad things will happen (see next tip)
*DO NOT turn the Dremel on if you have a piece of brake line attached and you are not holding onto or controlling the brake line! It's only attached with rubber fuel line, which is flexible. Turning it on without supporting the line in some way will cause the line to flop over and spin like a propeller (a VERY unbalanced on at that) and will more than likely find a way of hitting some part of your body... It's the same if you support the brake line down close to the Dremel while it's on. The further out on the line you give it support, the better.
*Keeping the Dremel at about half speed will keep the rubber fuel line sleeve you're using from expanding because of centrifugal force, because when that happens the brake line will actually start to wobble and vibrate inside the fuel line and possibly work it's way out of the fuel line completely.
Let me know what you think!