After the functional issues are sorted out, then I can work appearance and scaleness. I have a list of things in no particular order that I want to do:
-Paint the frame and tubing black to cover all the welding/grinding, leave the body rusty.
-Put lighting on the truck, two headlights and two taillights.
-Get new tires, thinking of the 2.2 mudslingers from rc4wd
-Redo the wheels in a yellow to match the body, and flip the lock rings so the silver side shows.
-Take the weight completely out of the front wheels, this thing doesn`t need any more weight up there!
-Re-purpose some of the original Tonka stuff, like adding an air tank, etc.
-Add some scale shackles and hooks and such, along with chains and tie downs.
I also have some way down the road type functional upgrades planned:
-New ESC with lipo cutoff and 3s capability.
-5000mAh 3s lipo, keep 55t brushed motor.
-Gear down even more after 3s.
-External BEC for servo.
-Possibly a transmitter with more channels for scale stuff and/or four wheel steering.
This truck is stupid heavy. I haven`t weighed it yet, but it is several times the weight of a mostly stock scx10. This is the result of the fairly thick metal cab and bed, plus the even thicker chassis. I have a feeling that I will be buying more aluminum parts as I break things once I actually start hitting the trails. I am happy with the track width, and think it looks good under the cab. I am probably going to reuse some more of the old parts to build a wrecker boom and trailer for it. I may as well since I have them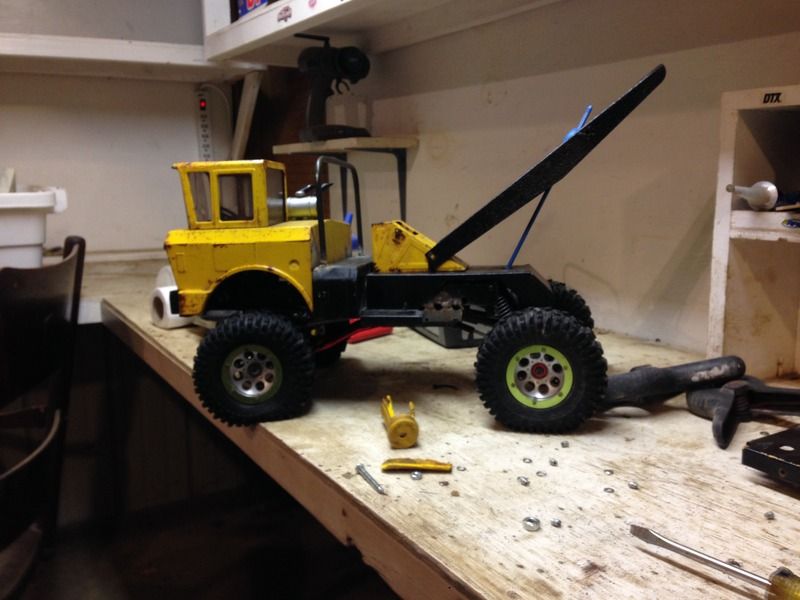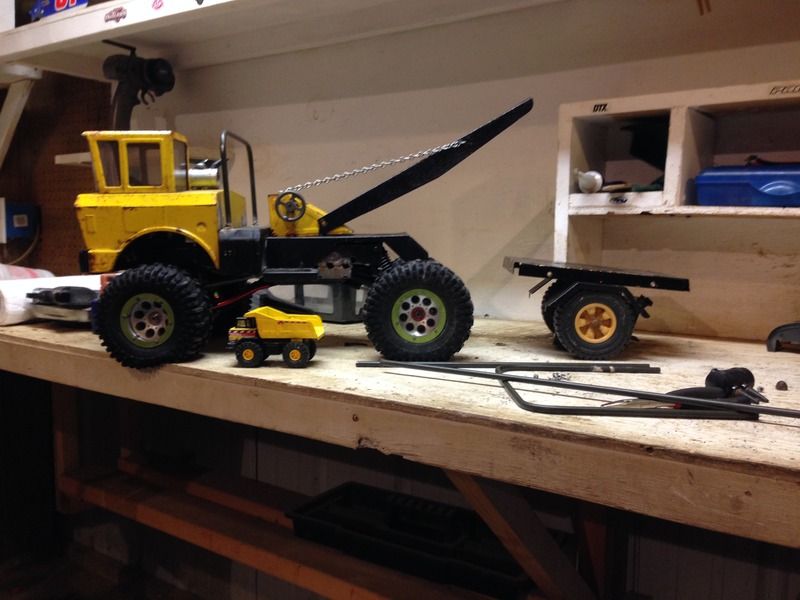 This is the current state of the Tonka. Everything new in these pictures is just mocked up. Yes the front tires are not centered in the wheelwells. When I had to drop the skid it screwed up my link geometry and I haven`t fixed it yet.
Any comments, suggestions, ect are welcome. Thanks for having me!
-Jake