Going to shoot for a blue that closely resembles Toyotas blue they used on the Hilux. So the links are made from 8/32 all thread, traxxas 5347 ball ends, and 1/4 inch brake line to cover all thread. In the rear I only had to do lower links as the top links had spacers that I removed making them short enough to work with the shorter bottom links.
[IMG]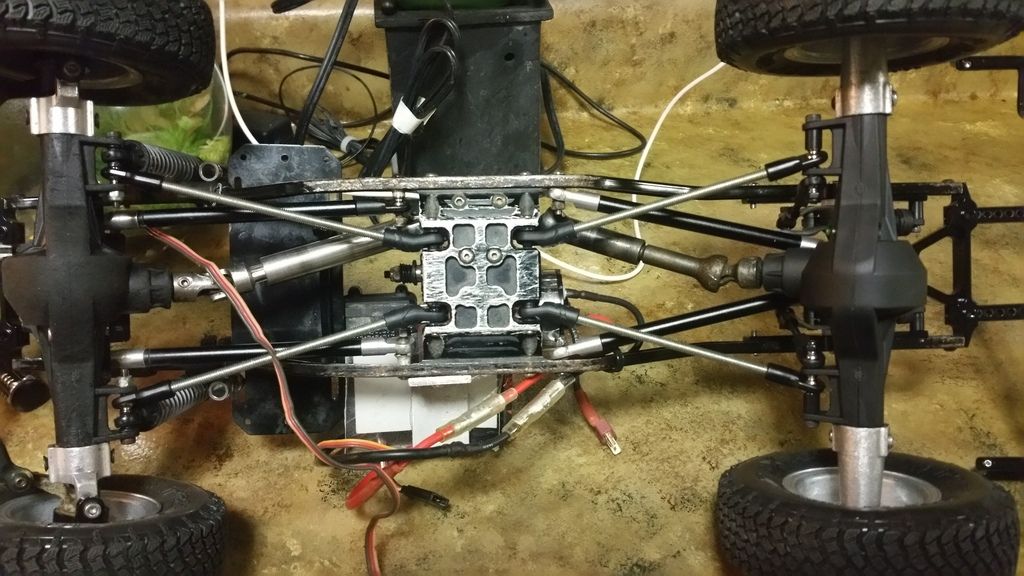 [/IMG]
In the photo you can see the driveshaft ended up being the first issue I ran into. It can no longer compress as the suspension is compressed causing a bind. Being a budget build I decided to dremel a little from both sides to make the MIP drive work.
[IMG]
[/IMG]
After that was done I then had to move the Dinky Cantilever shocks forward to keep them from hitting the axle. Now I have full motion in the rear with all problems solved.
[IMG]
[/IMG]
The problem in the front was mainly steering. The top links didn't have spacers and I ended up needing to make the top links along with the bottom links. Without making shorter top link the steering was messed up due to the axle clocking. Not a big issue, just more work. I do not have a photo of axle before I made top links but I needed shorter links up top to bring axle back to stock alignment.
Next will be getting the brakeline on the links to finish them up before doing rear body mount.
Photos checking articulation. I have a bit more in the front than rear. Maybe due to shorter links in rear or Cantilever shocks or both. Everything is functioning great after all this so I am not too worried. I tried getting body as low as I could and still use the stock plastic bumpers from trailfinder 2 and allow for max articulation without wheel rub. I may need to cut a little off front grill to fit front bumper but rear works perfect.
[IMG]
[/IMG]
[IMG]
[/IMG]