Decided to do a low and narrow manta type chassis was a lot easier than i anticipated, though i did have one problem, i did not pay close attention to lining up the side plates one was 0.5cm farther forward which resulted in a twisted backend, it was easily rectified by trimming down the lower link rod ends, straight as a die now. Well impressed with the result, its a totaly different beast now.
The before shot.
[IMG]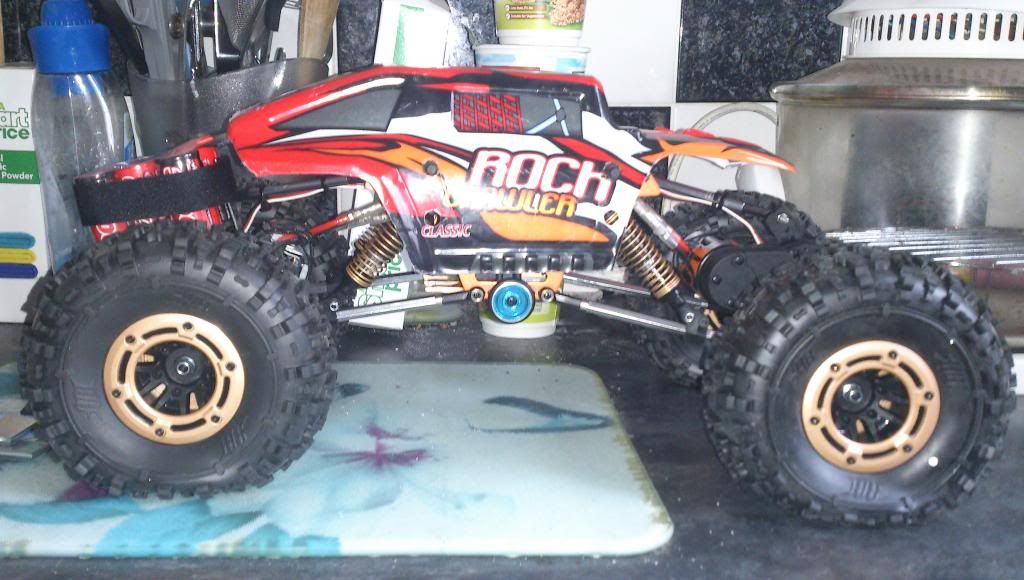 [/IMG]
The layout: cut cardboard templates, i cut a few cm from the middle then joined the bottom back on so the chassis is not as tall as the original Manta chassis, the front shocks can only mount here as anywhere else and the front of the chassis is in the air, it works though.
[IMG]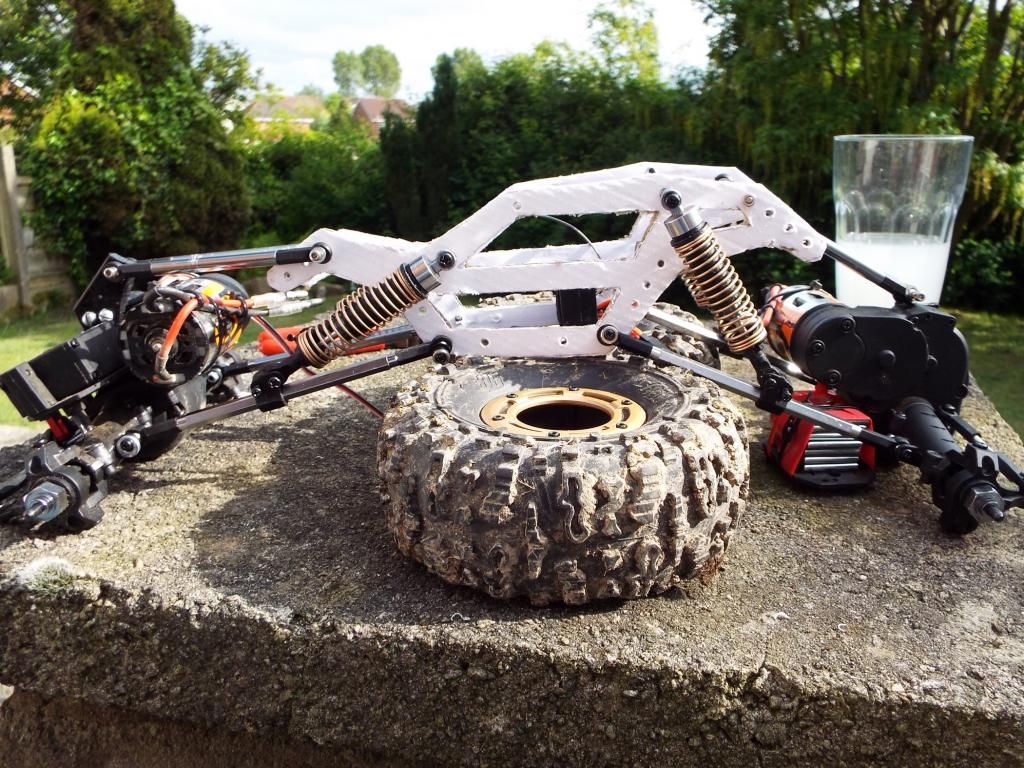 [/IMG]
Polycarbonate sheet cost $3.62
[IMG]
[/IMG]
Cut out the chassis entirely with a jigsaw. When joining the sides to the floor and roof the heads of the screws broke off while tightening by hand fortunately they had a good hold by then, gives a smooth finish anyway.
[IMG]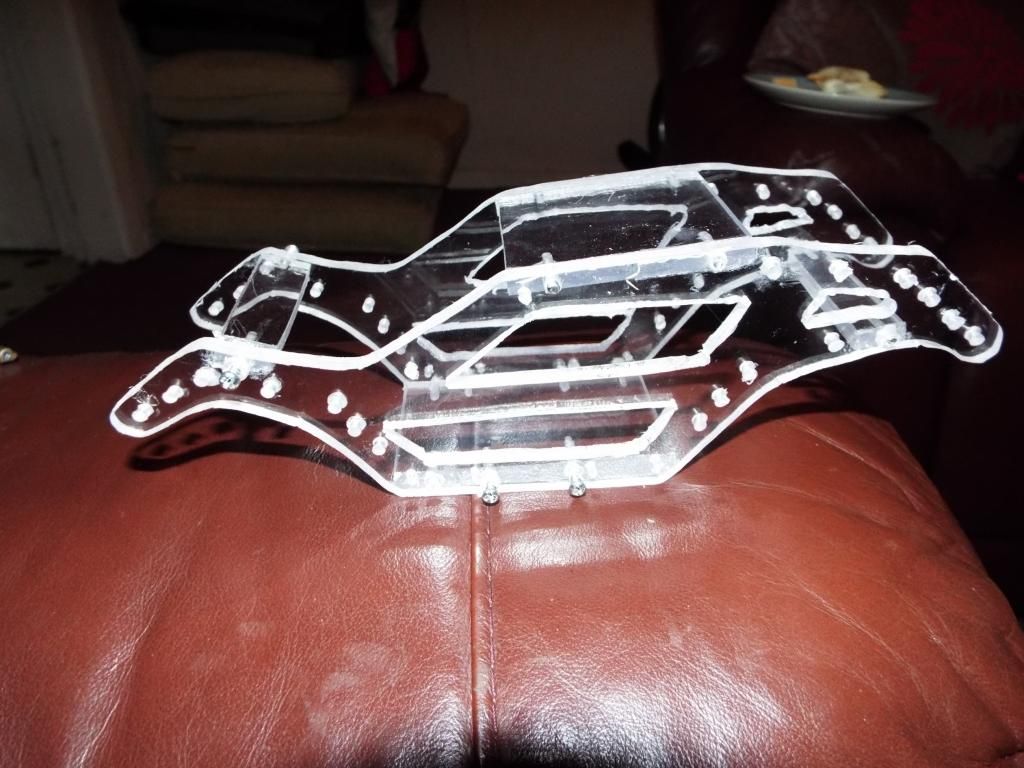 [/IMG]
[IMG]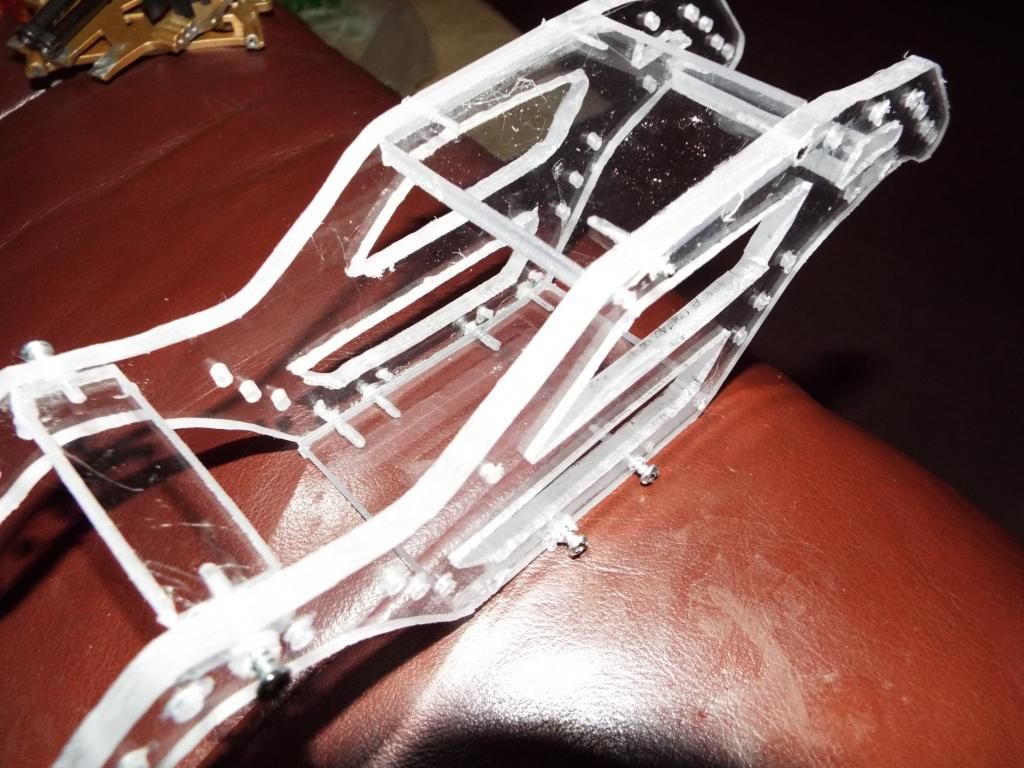 [/IMG]
[IMG]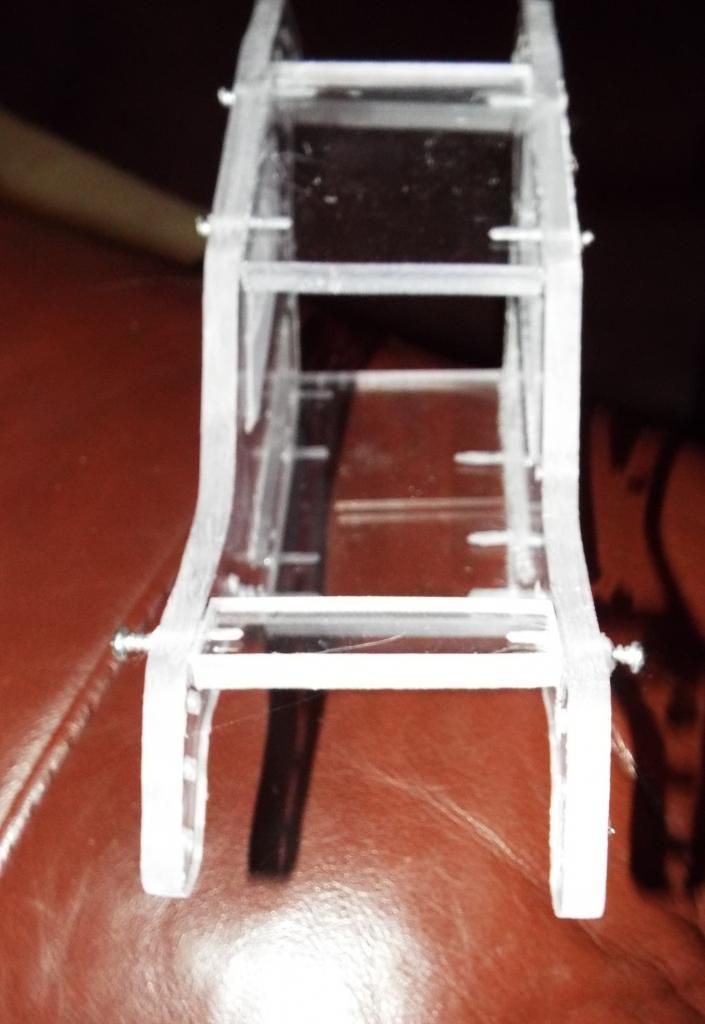 [/IMG]
Masked off the doors, roof and skid, sprayed 2 coats primer 2 coats black then 2 coats red for doors etc.
[IMG]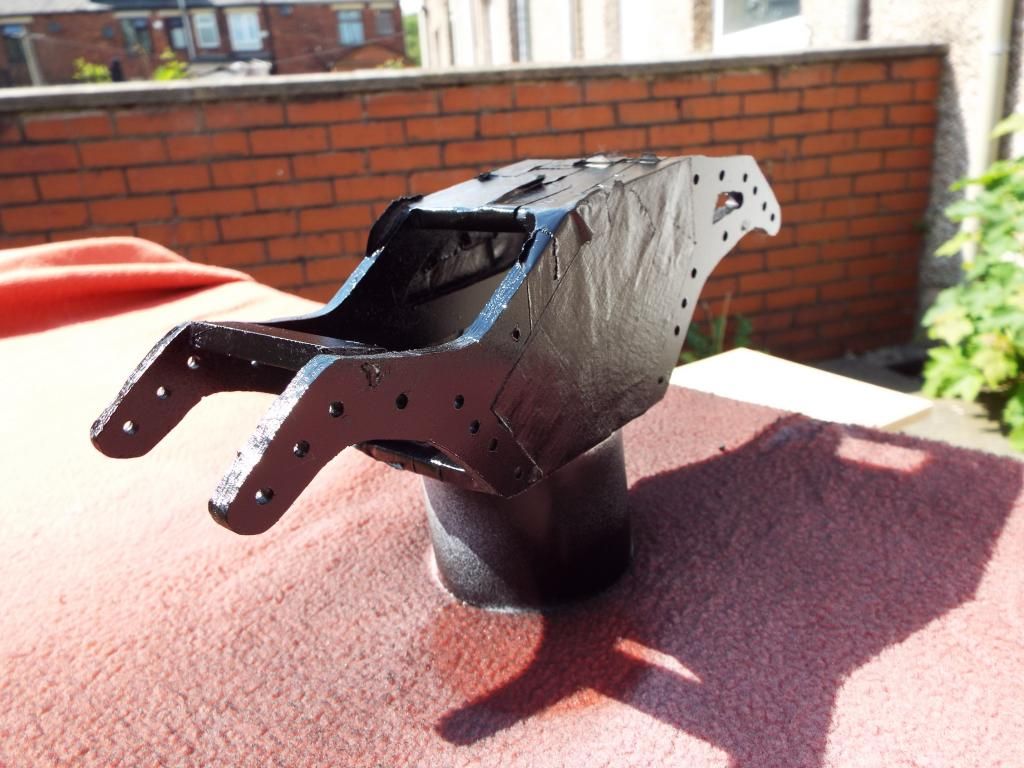 [/IMG]
Everythin bolted up without electrics.
[IMG]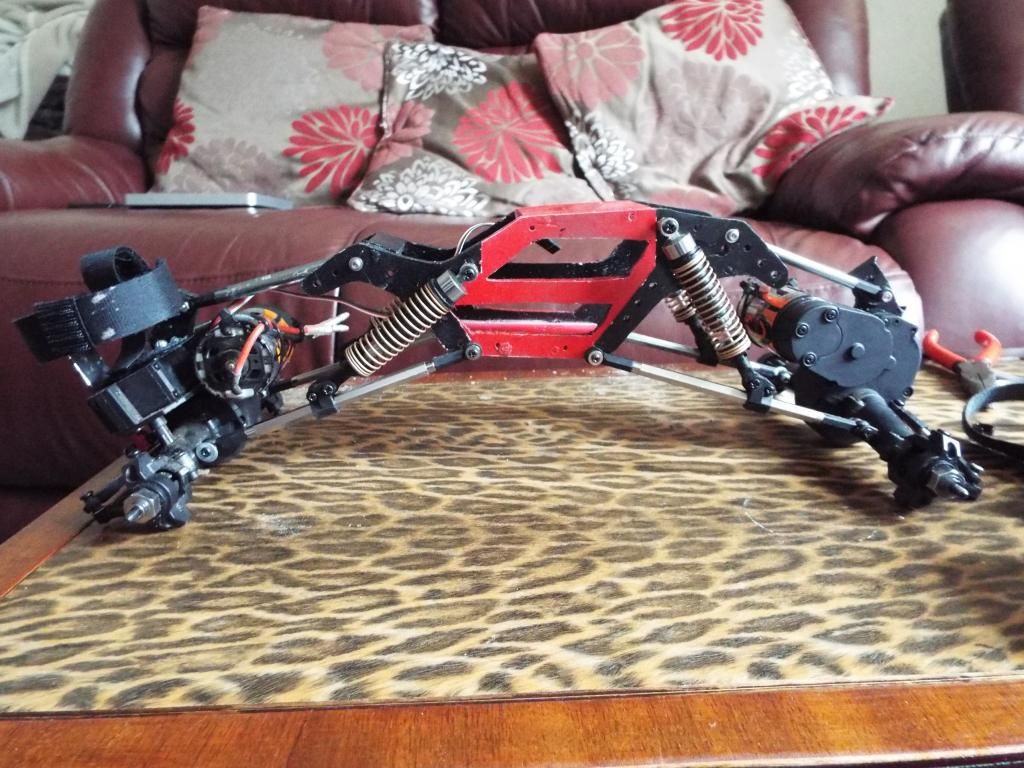 [/IMG]
[IMG]
[/IMG]
Hey presto!! The finished machine I love it, if it goes as well as it looks i'l be a happy chappy.
[IMG]
[/IMG]
[IMG]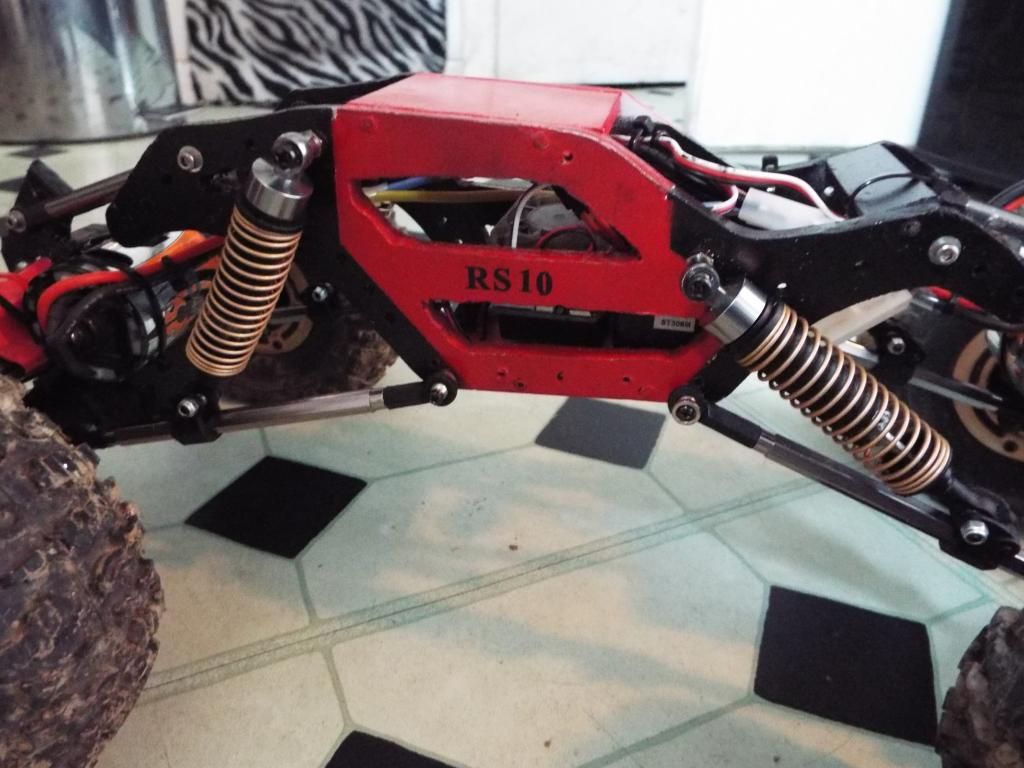 [/IMG]
[IMG]
[/IMG]
Full Spec:
Manta type custom chassis
Rover HB whitedot tyres
Rim weighted wheels
Electric tray elimination
Custom front servo battery mount
Rear steer lockout
Batwing elimination.
Internal 3mm shock limiters
Alturn Ultra high torque 17kg Servo
Aluminium Servo horn
Axial 55t 540 motors
Steel gears
Pinions 12t 13t
Spectrum 2 channel TX/RX
Dimensions:- Length- 18.5in/47cm
Height- 6.6in/16.8cm
Ground Clearance (norm)- 3.8in/9.75cm
Ground Clearance (compressed) - 2.75in/7cm
Chassis height- 2.75in/7cm
Chassis width- 2.55in/6.5cm
Chassis Length- 9.05in/23cm
Chassis weight- 150g/5.29oz 9g heavier than stock
Wheelbase- 12.99in/33cm
Overall weight without battery- 5lb 13oz/2.63kg
Overall weight with Battery- 6lb 10oz/3kg