This post will serve as a little history lesson. If you are not interested in history, just scroll on by. This post is really more for me to remember what I did to this, and how it evolved than for any other reason.
In 2008, I bought an AX10, and started to look into competing with it at local comps. It very quickly became apparent that it needed upgrades, and one thing I wanted to do was design a bodiless chassis for it. So,
5 years ago...
I designed the first version.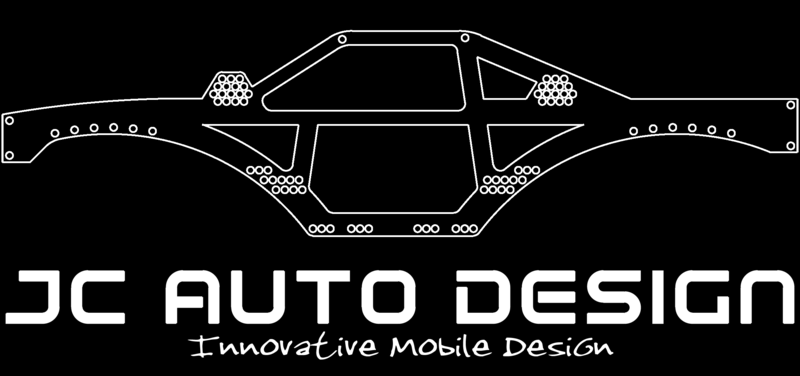 Initially codenamed the MRRC (monkeyracer Rock Crawler) the design went through many changes until I ended up with this: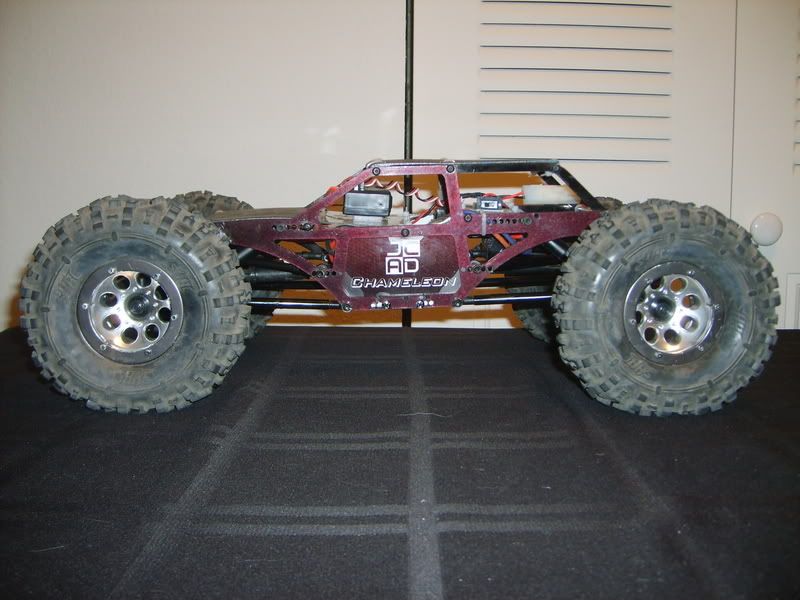 This was the first design to actually be expressed in a physical form, and was named
Chameleon
because of its ability to change the look by changing the rear panel pieces.
After uncovering some weaknesses in the design (namely some thin parts of the design that couldn't hold the abuse) I went back to the drawing board, and had an initial rendering: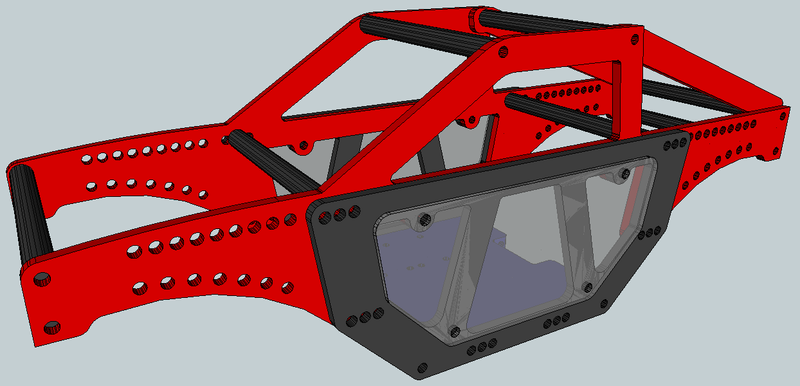 This is what I am claiming to be the first QVP bodiless chassis. I wanted the chassis between the shocks to be narrow, but the huge transmission needed clearance, so the side plates extended to meet minimum width and allow clearance for everything...
That design became the Karnage Crawler: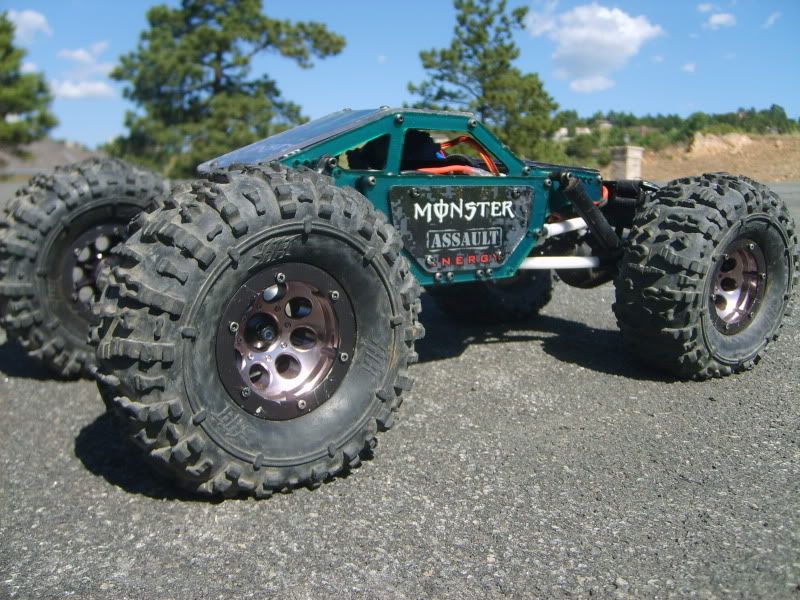 With that design, I learned even more about what I would change, and revised the design, yet again, to have a more narrow, but longer skid, and just barely pass the minimum dimensions for bodiless chassis (now, with the rules being smaller dimensions, this will easily pass...) and after some "clarification" about the rules, the new design you see above was decided on.
Then, I got out of comp crawling because it stopped being fun. I got into scale rigs, and most of the parts from the comp rig were donated to those vehicles.
Karma has a way of giving back though, and many of the parts in this rig are from some of my trail rigs that have evolved, been parted out or in hibernation.
The TallIrons (5.75" Flat Irons) are from my
Dodge Ram build
. The wheels, transmission, drive shafts, dig, C-Hubs and Knuckles are from my
Project BBAMFT build
. The axles are from my
Project Wringo build
. The shocks are from the
Project Rampage build
.
There are some new parts on it as well though... The axle trusses are some
products I sell
in the vendors section, although the front truss is modified specifically for this rig. The Chassis, Chassis side braces, hood (not shown) and skid plate are all pieces I printed on my 3D printer. I may end up having these cut from delrin or CF, but I'll wait and see how the ABS holds up first... All the links are delrin that I cut and tapped, and either use axial or revo rod ends. The XR10 mod was done with the help of
RC Bros Burly Tubes
(These are awesome by the way, if you haven't yet, you need to check them out.)
This build has been going for 5 years, and hopefully I'll have some fun with it before I part it out for something else...