Well, I'm starting this thread to track the progress on my Jeep Build. I'm using Evo 1 as my inspiration for this build. Not going for an exact replica, but using some ideas from it.
So here we go!
up first for me was the battery tray. Used a Savox servo. Found out later you have to shim these higher on the chassis for the panhard bar to clear. I just moved the included wire clips from on top to under the servo.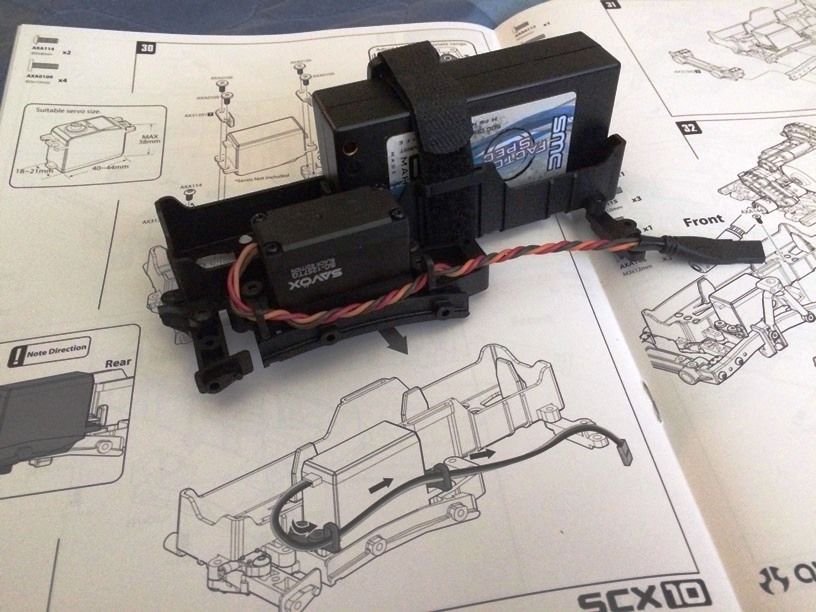 Then the axles
Then somehow magically it ended up here...
I fitted the Rubicon body from my original SCX. Thankfully, Axial included body mounts to do this. The stock mounts from the 1st gen won't work since the shock towers are located differently. You have to use the off set mounts in the kit. I then fitted my Axial beadlocks to the BFG tires. Also, the Rubicon bumpers are not compatible with the XJ bumper mounts. You have to swap everything over.
Overall, the build went very well and I still have a lot of work to do. I still need to work out a wobbly spur gear and gear ratios for racing. I fitted my Tekin RS gen 2 and a 17.5t brushless from my buggy for now. Will probably get replaced with a Roc412 later. More updates to come!
Edit: Here is the current stat sheet 11/8/17
Axial SCX10 II Kit
ESC: Castle Mamba X
Motor: Castle 4600KV Sensored
Servo: Savox SW-1210SG
Axles: AR44 Stock
Wheels: SSD Assassin 1.9
Foams: Stock
Tires: SCXII BFG All Terrains
Front Shocks: TLR 22 Buggy Rear shocks, yellow spring, 30wt 1.6 piston, most aft top mount hole
Rear Shocks: 30 wt stock springs most fwd position.